News
Kiên Giang's marine aquaculture aims to reach one billion USD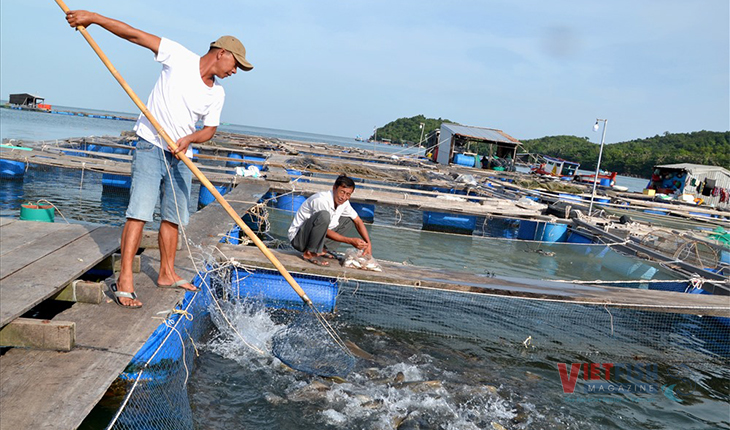 Kiên Giang has a large ocean with 140 islands, 200km coastline, and many bays to enable the marine aquaculture development.
Kiên Giang's marine aquaculture develops in the Phú Quốc and Kiên Hải islands and some communes in Kiên Lươngdistrics of Hà Tiên city. According to the Kiên Giang Fishery sub-department, the province has now 4,300 fishing cages in the ocean where cobia, grouper, pompfret, redtail catfish, snub-nose pompano, pearls and some mollusks are reared.
Either fish farmers or many corporations and companies are investing into marine aquaculture in Kiên Giang. Trấn Phú Import-export Trading and service one-member limited company is investing into the European technology for marine aquaculture in Phú Quốc's ocean. Mavin Group decided to finance US$ 30 million to build a Seafood aquaculture center for export in 2,000 hectares of the Kiên Hải ocean, expecting the annual output of 30,000 tons of marine fishes.
Vice Director of Kiên Giang Sub-department of Livestock production and Veterinary Nguyễn Đình Xuyên said that the institution would carry out the environment survey twice a month for further development of the local marine aquaculture in cages and provide farmers with necessary information and warning.
The areas with available plans of fish cage culture along the ocean and islands must follow the approved layout of cage positions, quantity and environment protection program. Farmers are supposed to monitor the water environment of the culture area and keep the health of fishes on track. The cages must be supervised all day and night for prompt discovery of the unusual phenomenon.
During his trip to Kiên Giang to visit the local marine aquaculture and work with the provincial leaders, Deputy Prime Minister Trịnh Đình Dũng requested to re-structure the fishery industry to decrease exploitation activities, increase output from aquaculture operations, create more jobs for aquaculture farmers and reduce exploitation workers.
Seafood aquaculture must be applied with advanced technologies of the developing countries beside taking use of the available advantages of ocean water surface. The provincial leaders must adopt policies to encourage and attract domestic and foreign investors and seek for consumer markets. Seafood development must be attached to restructuring of the fishery industry without committing to illegal fishing activities, ensuring the production, efficiency and global competitiveness.
VFM