News
Slight decrease in pangasius output in the first 6 months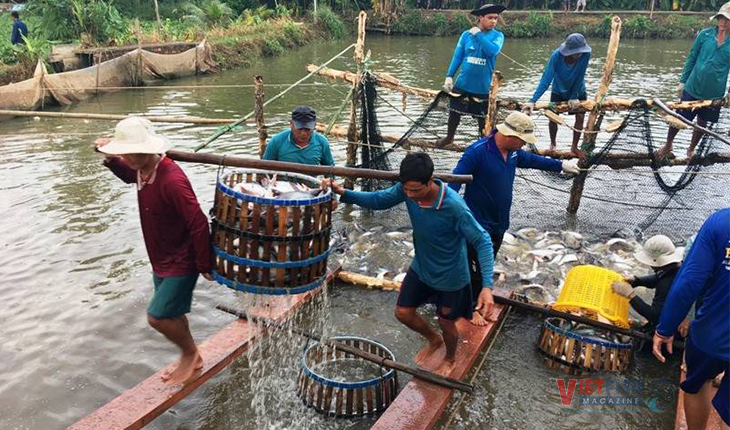 Pangasius output reached nearly 645 thousand tons in the first half of the year, down 5% from last year, according to the Ministry of Agriculture and Rural Development (MARD).
The COVID-19 pandemic and long lasting saltwater intrusion were blamed for a slight decrease in production, process and exports of pangasius in the first months of 2020, according to MARD.
The pangasius output in the first 6 months of 2020 reached nearly 645 thousand tons, down 5% from last year. Prices continue to stay low. Pangasius material was sold at 17,500-18,000 dong/kg in An Giang on June 18, down 100-300 dong/kg compared to June 06, according to the Agency of Foreign Trade. The production would be 20,000-21,000 dong/kg.
Meanwhile, 2019 output of pangasius reached 1.72 million tons, resulting in surplus supply and consumption difficulties.
The dependence on exports caused difficulties faced by the sector when orders were cancelled or delivery was delayed due to the social distancing in most importing countries.
Minister Nguyễn Xuân Cường paid a visit to some pangasius companies in An Giang on May 07 and presided a meeting with An Giang People's Committee and Đồng Tháp Department of Agriculture and Rural Development to evaluate the production and consumption of pangasius amid COVID-19 situation.
He stressed the important role of the market and directed the implementation of market solutions to reduce pressures on exports, tackle difficulties in unsold stocks, and motivate farmers and businesses to keep producing and developing. The Directorate of Fisheries is cooperating with agencies to boost the domestic consumption of pangasius.
VMF