News
Solutions to effective and sustainable development of cold water fish culture discussed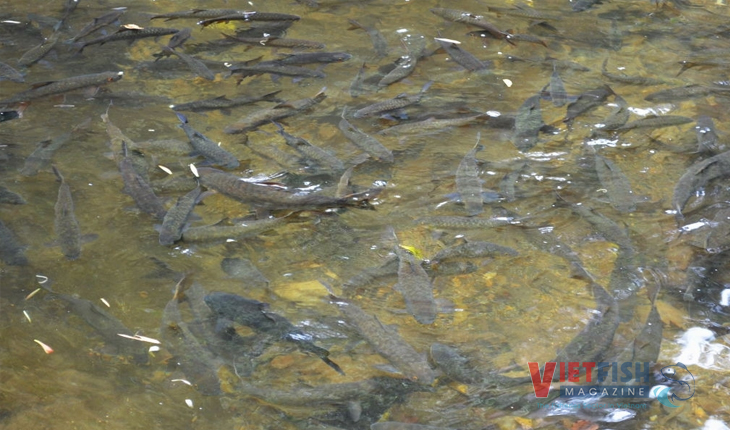 On Nov 11, a Summary conference of 15 years of development of cold water fish and working plan for 2021-2030 period was held in Sa Pa by Vietnam Fisheries Society in association with People's Committees of Lào Cai and Lâm Đồng provinces.
According to the Vietnam Fisheries Society, after a successful trial and development in 2006, Vietnam mainly reared sturgeon and salmon, bringing in nearly 100 tons in 2007. After 15 years of cultivation, the country has got over 3,700 tons of cold water fish, up 68.75% of productivity from 2007 to 2020. The country now has 25 provinces related to cold fish water, mainly in the north and Central Highlands.
The country expects to bring in 3,000 kg of processed caviar. As many as 4 million baby fish have been produced, meeting around 80% of the demand of cold water fish production facilities nationwide, and domestic feed has satisfied about 90% of sturgeon and 50% of salmon, with prices being 20% lower than imported feed. Most Vietnamese consumers buy fresh or frozen cold fish water, with a vast majority in big cities and traveling destinations.
At the conference, attendees discussed and proposed solutions to the sustainable development of Vietnam's cold water fish sector. Some focused on dealing with production and development in combination with protecting the environment and ecological system, increasing investment, supporting companies to develop the cold fish cultivation sector completely and synchronously, creating favorable conditions for Vietnam's cold fish water sector to develop, meeting local demand for this fish and aiming to export.
According to Hoàng Quốc Khánh, Deputy Chairman of Lào Cai's People's Committee, the province has given further directions to develop the cold water fish sector, resulting in around 25-30 billion dong/ha output in 2020 with the farming area exceeding the plan. However, Lào Cai is facing difficulties in managing the plan, water resources, disease outbreaks and quality.
In his speech, Deputy Minister of Agriculture and Rural Development Phùng Đức Tiến emphasized that after 15 years of experiments, Vietnam has been listed in top 10 countries with the largest output of sturgeon worldwide. However, Vietnam has been facing challenges in developing the cold fish water sector because the country is applying low technologies in cultivation, the farming system depends on natural water resources and cold fish water production facilities have not enjoyed preferential policies.
So as to assure high efficiency, stability and sustainability of cold fish water in the future, Deputy Minister Tiến requested local authorities to adopt a production process which is suitable with the local ecology system and traceability policy. He set a target of meeting 100% of the domestic demand for cold fish water and exports by 2030 and bringing in 5-10 tons of egg products per year with export value of $20-25 million. High quality baby fishes must fulfil the demand for commercial cultivation and industrial feed must be enough for domestic production of cold water fish.
VFM