News
Stop the contravention of IUU fishing regulations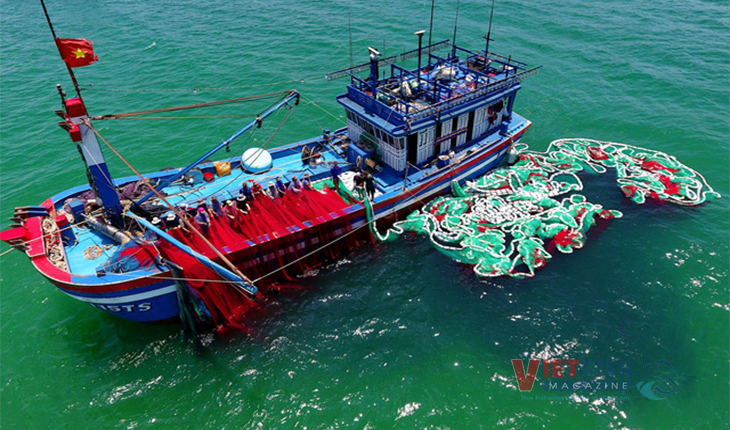 Any fishing boats in contravention of illegal, unreported and unregulated (IUU) fishing rules given by Vietnam will be strictly handled.
Strictly handle violated fishing boats
The Ministry of Agriculture and Rural Development (MARD) has sent four teams of inspectors to Thanh Hoá, Hải Phòng, Quảng Ngãi, Quảng Nam, Đà Nẵng and Bình Định since late 2019, and issued official documents to direct and instruct farmers to follow regulations.
In Feb 2020, MARD together with relevant ministries and sectors and officials of 28 coastal prefectures held a conference of enhancing the leadership, guidance and implementation of the fight against IUU fishing to evaluate the outcomes and define up-coming key tasks to carry on the fight.
Some key prefectures were recognized to record no cases of trespassing foreign territories or already reduce a great number of violated fishing boats, including Bình Thuận, Tiền Giang, Bà Rịa – Vũng Tàu, Bình Định.
MARD requests the Directorate of Fisheries (DoF) to frequently follow, collect and exchange information of fishing boats captured by foreign authorities or having signs of trespassing foreign water territory (through the data of Vessels Monitoring System – VMS) to cooperate with inspection units to verify and legally handle violated cases.
Some provinces have imposed more stringent measures of handling vessels in contravention of water territory and VMS, such as Bình Định that imposed a fine of 3.6 billion dong on 4 vessels in contravention of trespassing water territories.
The Cà Mau official signed a decision of punishing a vessel trespassing the foreign water in April 2020 and Kiên Giang issued 12 decisions of putting fines on vessels committed the same crime.
Besides, DoF worked with forces and local authorities to implement patrols in the ocean to detect and handle vessels trespassing water territories or foreign vessels trespassing Vietnam's water.
80 patrols have been conducted in 2019 with a large number of vessels being handled and 111 turns of inspecting boats patrolling.
As many as 2,461 turns of Vietnamese fishing boats were checked and recorded. 355 of them were imposed administrative fines, with a worth of 1.8 billion dong being collected to the state budget. Those IUU violated cases mainly failed to leave identification marks on boats and provide regulated papers, or lacked papers, or provided papers without any records or with false records, or failed to fulfill the regulatory records.
The patrol unit disseminated legal regulations of fisheries and gave warnings to thousands of turns of vessels and fishers related to marine exploitation.
As many as 1,764 cases were handled from Oct 2019 to Jun 2020 for violating marine exploitation regulations, the total worth of fine was over 33 billion dong.
35 decisions of administrative punishment were issued on vessels trespassing foreign ưater, 101 decisions of administrative punishment were issued on vessels failing VMS (remove VMS equipment without any supervision of installer, interrupt the operation of VMS during the trip).
Enhance international cooperation against IUU fishing
So as to bring efficiency in managing vessels trespassing foreign water, MARD and DoF have implemented international cooperation activities against IUU fishing and worked with countries in the region.
In particular, DoF and Thailand's counterpart frequently exchange information of vessels trespassing their water territories to update the list of IUU vessels.
Currently, Vietnam's DoF is teaming up with relevant agencies to work with Thailand's counterpart to deploy the signature of MOU of the fight against IUU fishing between these two departments.
Likewise, they are preparing for the Seventh Conference of small working groups related to fisheries between Vietnam and Thailand held in Vietnam in Sep 2020 intentionally, and the fourth meeting of the General working group of the fight against IUU fishing between Vietnam and Thailand in Vietnam scheduled in Oct 2020.
Vietnam and Philippines have been remaining an annual bilateral meeting of fisheries and preparing for procedures of extending the longevity of the hotline Vietnam-Philippines related to the fight against IUU fishing.
Besides, MARD is presiding and continues to cooperate with other countries in the region in the mutual fight against IUU fishing. The institution is working with Brunei's government to proceed the MOU of using the hotline to fight IUU fishing which was already signed by these two countries on March 27, 2020 in the frame of state visit paid by Brunei's King Darussalam. Two hotlines were set up with China and Cambodia upon agreements of cooperation between MARD and counterparts of these two countries.
Vietnam is willing to participate in the Innovation "Set up a schedule of fighting against IUU fishing among ASEAN countries, period 2020-2025" and other innovations of sustainable fisheries development and prevention of IUU fishing regionwide. Vietnam continues to work with the Southeast Asian Fisheries Development Center (SEAFDEC) to implement a model of electronic exploitation certification on trial in Bình Thuận and Khánh Hoà.
Vietnam is ready to participate in regional innovations and multilateral forums to exchange information and experiences in fighting against IUU fishing, such as RPOA, APEC, FAO, IMO. Vietnam commits to take part in and fulfill its responsibilities as an outsider and a partner of the Western and Central Pacific Fisheries Commission and provide full reports and data as requested.
The US commits to help Vietnam enhance qualification of its fisheries surveillance force to improve law enforcement skills and provide training courses to inspectors so that they will deploy the port state measure.
VFM