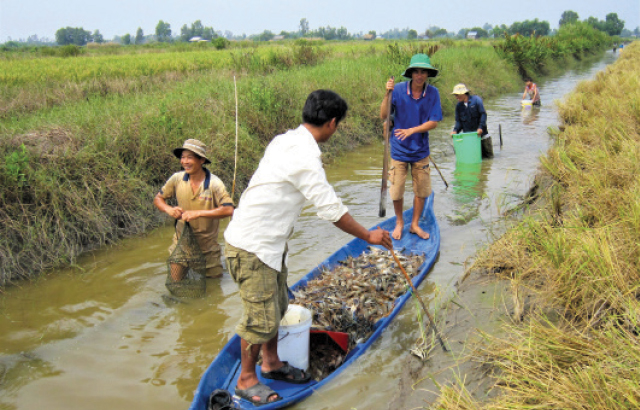 The model of rearing all male giant river prawn in combination with cultivating rice has brought out a sustainably high efficiency for farmers in Tân Bằng commune of Thới Bình district, Cà Mau province for years; however, broodstocks of this species is in short supply.
Trần Đăng, Chairman of the Board of Directors of Ông Đuông Cooperative said: "local farmers have stocked all male giant river prawn for two years and realized that shrimps weigh up well with high rate of males (nearly 100%), attracting more traders. Besides, selling prices are higher than other giant river prawns, from 10,000 to 25,000 dong/kg. Thus, not only members of the cooperative but outsiders register to rear all male giant river prawns".
An average of 15,000 all male giant river prawn broodstocks stocked in one hectare pond will produce 400-600kg of shrimp. The 20 count shrimp is sold at farmgate at 120,000-125,000 dong/kg. Meanwhile, other giant river prawns are priced at 100,000 dong, but traders still prefer all male giant river prawns.
More than 200 farmers in Lê Hoàng Thá hamlet, a credible branch of An Giang Aquatic breeding Center to supply male giant river prawns, and Ông Đuông cooperative entered into a contract of rearing this species in Bạc Liêu. However, it's almost the end of stocking season, farmers have not received post larvae.
He added: "the cooperative signed a sales contract of 3 million post larvae and paid 100 million dong in advance to the supplier in April 2020, but only 500,000 post larvae of all male giant river prawn have been delivered. When will we have to wait?"
Đoàn Minh Hiện, Head of Lê Hoàng Thá hamlet said: "the hamlet has 286 households stocking giant river prawns and 70% of them registered for all male giant river prawns; and yet post larvae is not available. Some households used Thailand-originated-giant river prawns to fill the pond to catch up with the harvest season".
Deputy director of Cà Mau agricultural breeding center Phạm Minh Dũng said: "the scarcity of all male giant river prawns is driven by short supply of broodstocks and limited number of production facilities. Besides, it was partly attributed to climate change which did cause impact on post larvae production".
As calculated by the agriculture sector, around 200 million all male giant river prawns are needed to fill 200,000 ha of freshwater and brackish water shrimps at a density of one pc/m2 as recommended by professional authority.
VFM