Aquaculture
Bình Định: White leg shrimp farming with Semi-Biofloc technology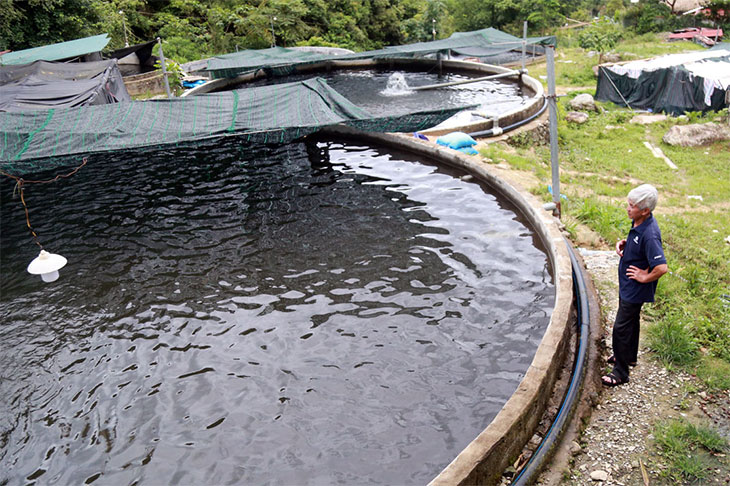 Performing the Agriculture Extension in 2021, the Bình Định provincial Agriculture Extension Center built the model "White leg shrimp farming with Semi-Biofloc technology" so as to help shrimp farmers reduce the risks of disease outbreaks, improve the ecological environment in the farming area, and increase income.
The model was carried out by farmer Lê Minh Tâm in Phù Cát district in his 1.500m2 pond. He was provided with 50% of broodstocks, materials and feed. He stocked 300,000 white leg post larva (PL12) which were firstly nursed in the 300m2 nursery pond in 25 days. They were then taken to a pond liner equipped with water fans, automatic feeder, and water rotation system. During the performance of the model, Tâm kept learning, studying, and following the instructed technical process; thus, shrimp were not infected with diseases, weighed up at the same size and reached a survival rate of 95%. After three months, shrimp reached the size of 79 pcs/kg, leaving the estimated output of 24 tons/ha and profit of around VND 178 million.
According to Master Trần Quang Nhựt, Deputy Director of the Agriculture Extension Center, it is easy to apply the Semi-Biofloc technology in white leg shrimp culture as it does not require a large pond but a nursery pond and a pond liner equipped with paddle wheels and a bottom aeration system operating 24/24. The main technique of this technology is frequent molasses associated with probiotics every three days and aeration within 24 hours before shrimps are taken to the grow-out pond so that water quality is assured and feed is produced.
Semi-Biofloc technology assures biosafety regulations, help shrimp grow up fast, improve productivity, increase output, and reduce production cost as compared to traditional farming models. Remarkably, this technology prevents shrimp from contracting the white dot disease, stabilizes the water environment without frequent change of water, reduces FCR and lowers the feed cost. 
He added that the technology will be disseminated and introduced widely to farmers. Hitech shrimp culture will be oriented in the province to increase the income for households related to shrimp culture, and provide tens of local residents in coastal areas with jobs, contributing to social stabilization and security assurance.
In the Workshop of reviewing the results after three months of Semi-Biofloc application, most of the delegates and households evaluated that it was an economically effective model which helped farmers increase their income and suited local conditions. Households said that they would apply the Semi-Biofloc technology into the next crops to increase productivity and income.
However, so as to develop and enlarge this model, a policy should be formulated to help farmers approach preferential loans because the investment cost is quite huge. Furthermore, local authorities should instruct and encourage shrimp farmers to take part in a supply chain so that they can approach quality raw materials and sales channels.
VFM