Aquaculture
Bosch, AquaEasy, a spin-off venture under Bosch's innovation hub grow, brings aquaculture know-hows to Bac Lieu University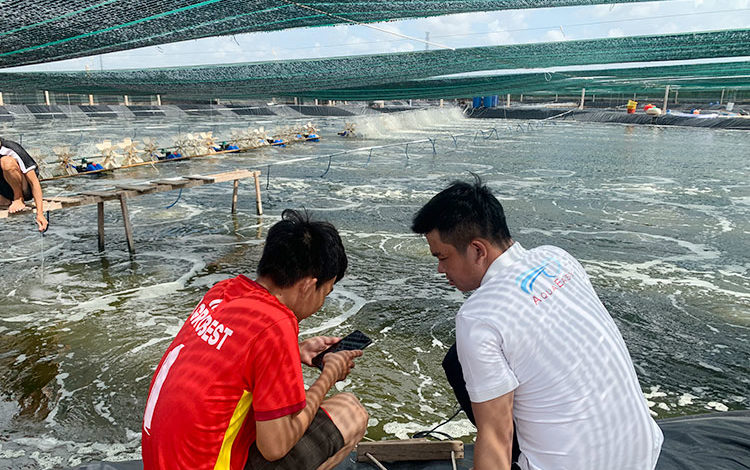 Bac Lieu, Vietnam –On 11 June 2022,Bac Lieu University andAquaEasy,a spin-off venture under Bosch's innovation hub grow,announced the Memorandum of Understanding (MoU) that aims to bring technology know-hows to the classroom in the area of AI and IoT, in the field of aquaculture.With a three-pronge approach, this agreement entails multilevel training programs, scientific research projects, along with internship and careeropportunites. This will be done by incorporating the knowledge as part of the students' syllabus. At the same time, students from Bac Lieu University will receive first-hand knowledge from Bosch's and AquaEasy'stopic expertsvia annual conferences and seminars on science and technology.
"The future is demanding an innovative approach to workforce education, one that meets the needs of the institutes, the industries and most importantly, our students. This can be achieved through the programme that we are signing today", said Dr.Phan Van Dan, President of Bac Lieu University.
Through this partnership, the students of the Aquaculture Division – Agriculture FacultyofBac Lieu University will also have the opportunities to study and conduct research under the guidance and mentoring of technicians from Bosch and field experts from AquaEasy.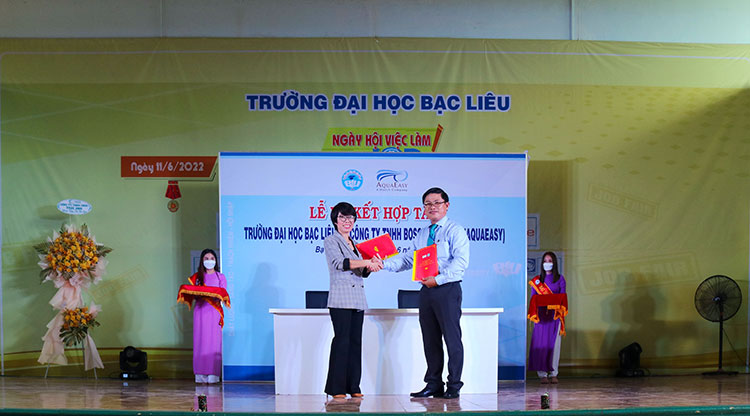 Mrs. Tran Thi Thu Tham, representing Bosch Vietnam,and Dr. Phan Van Dan, representing Bac Lieu University, to sign the Memorandum of Understanding
Future technologies for shrimp famers
Started in 2017, AquaEasy – a smart, technology-driven aquaculture monitoring system – is able to reduce dependencies on manual labor and subjective assessments while improving on yield, staff safety and environmental sustainability in a commercial-intensive industry.With improved accuracy, precision and repeatability in farming operations, quick and easy monitoring of daily measurements through a mobile app allows the owners, who often live a long way from the farms, to actively manage water quality in ponds.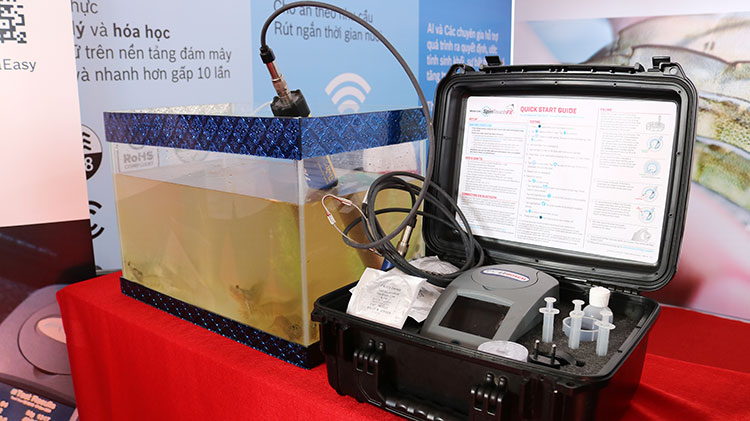 AquaEasy's portable Smart Laboratoryoffers a new and affordable way to test the chemical parameters of water quality for shrimp farms
"AquaEasy as an all-in-one solution to shrimp farming will alleviate all the farmers' pain points", said Guru Mallikarjuna, managing director of Bosch Vietnam. "We are very pleased for this collaboration with Bac Lieu University, and our goal is to equip the students to be future-ready and this partnership is expected to create even more ventures in the digital field."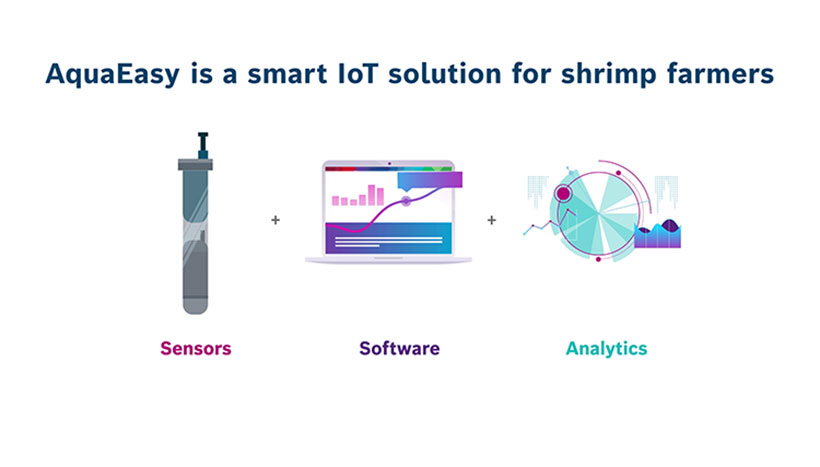 AquaEasy is the perfect solution for prawn farm owners
With the current knowledge and expertise, AquaEasy will be contributing to create a syllabus for the Aquaculture Division – Agriculture Faculty of Bac Lieu University, that will expose students to sensor technology, innovative software, and analytics services in the field of aquaculture. Skills acquired from the course is crucialto prepare the next generation of farmers, as scalability and flexibility of new aquaculture solutions allows them to deliverhigh-quality product to business-owners in Southeast Asia. Additionally, farmers can react quicklyto the growing needs of the dynamically changing market, adapt thesolution for other aquatic species, and extend theiroperations onto other regions in the future.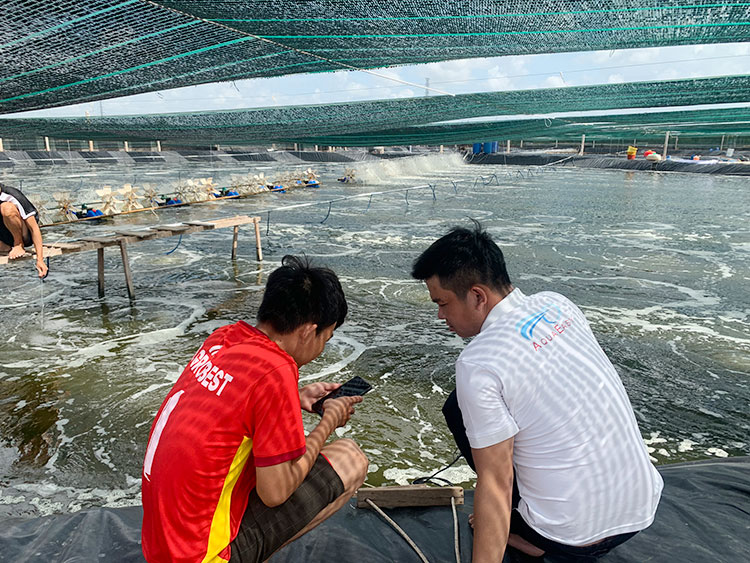 AquaEasy has three mainIoT-powered components: sensor technology, innovative software, and AI-integrated analytics services.
Asa major shrimp hub of the country, Bac Lieuaims to produce 32 – 35 billion post-larvae in 2020 and 40 – 50 billion by 2025, ensuring quality and meeting the province's demand for post-larvae while also providing income to neighboring areas.
Contact person for press inquiries:

Nguyen Thi Bich Phuong

Corporate Communications Manager

Mobile: +84 933 979 246

Email: Phuong.NguyenThiBich@vn.bosch.com

For more information about AquaEasy: https://www.aquaeasy.life/
About Bac Lieu University
Founded in 2006, Bac Lieu University was established to meet the requirements of training and developing high-quality human resources, serving the progress of industrialization and modernization of Bac Lieu province and the Ca Mau Peninsula. Bac Lieu University aims to become an application-oriented university, focusing on innovation and training human resources to meet the socio-economic development. The university also pays great attention to developing cooperation with businesses in the region – becoming an attractive environment for investors is also one of the important visions in sustainable development of the university.
Bosch in Vietnam
Bosch established its first representative office in Ho Chi Minh City. Since 2007, Bosch has expanded its footprint in Vietnam where it has branch offices in Hanoi and Da Nang, as well as a Powertrain Solutions plant in the Dong Nai province to manufacture pushbelts for continuously variable transmissions (CVT) in automobiles. In addition, Bosch operates a software and engineering R&D center as well as an automotive R&D center for mobility solutions in Ho Chi Minh City. The Bosch software and engineering R&D center extended its footprint to Hanoi in June 2022. In fiscal 2021, Bosch recorded consolidated sales of about 192 million euros in Vietnam. As of 31 December 2021, Bosch employed more than 5,000 associates in Vietnam. Bosch has diversified businesses in Vietnam. Today, all four Bosch business sectors, namely Mobility Solutions, Industrial Technology, Consumer Goods, and Energy and Building Technology have operations in the country.
Additional information is available online at: https://www.bosch.com.vn/, https://www.linkedin.com/company/bosch-vietnamandhttps://www.facebook.com/OfficialBoschVietnam.