Aquaculture
Cà Mau: Farmers get bumper harvest of giant river prawn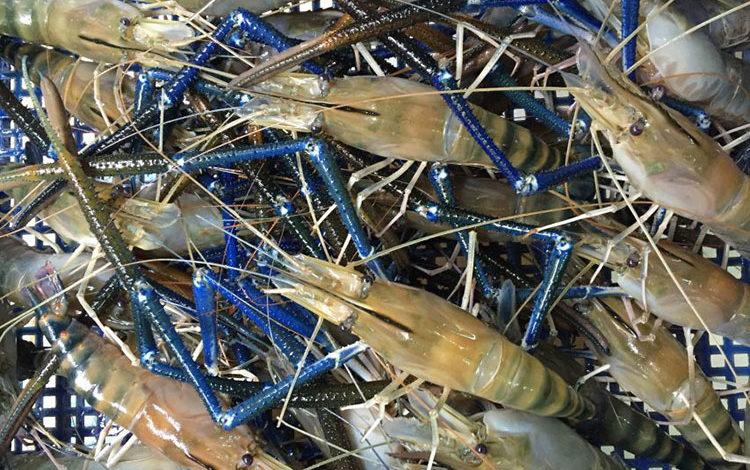 Farmers in U Minh district of Cà Mau province are about to harvest the crop of giant river prawn which is abundant thanks to favorable weather conditions and experienced farmers. They are really delighted with the bumper crop in most of the ponds.
Realizing favorable weather conditions, farmer Phạm Hoàng Thông in Khánh Thuận commune rehabilitated the field in early March and stocked 20,000 post larvae of giant river prawns in mid-April in a 0.8ha pond. 
He shared: "My family have earned more money thanks to culturing giant river prawns in the rice field for years. I just harvested 310 kg of giant river prawn from this crop, sold them at 95,000 dong/kg, and earned nearly 30 million dong. There is just little amount of prawn left in the pond and I intend to harvest them in the run up to Tet Holiday".
Farmer Trần Chí Linh in Khánh Thuận farmer stocked 30,000 post larvae in the 1.5ha pond this crop. Thanks to favorable weather conditions as well as sufficient feed, the shrimps weighed up fast and could be harvested in just after five months. "I've earned 32 million dong from this crop and now I continue to have the pond rehabilitated to culture other species such as black tiger shrimp, white leg shrimp and crabs to serve Tet Holiday". 
Farmers in Khánh Thuận commune stocked more than 1,445ha of giant river prawn, 400ha of which has been harvested so far.
Nguyễn Phích commune started harvesting giant river prawn these days. Farmer Nguyễn Văn Út in Hamlet 6 stocked 35,000 post larvae in early April and harvested nearly 400 kg after six months. "I started harvesting nearly one month earlier than last year and farmers all started to harvest at this time of the year; therefore, price squeeze would not happen, shrimp could be sold easily", said Út.
The Department of Agriculture and Rural Development in U Minh district said that they always build plans and cooperate with localities to provide farmers with training courses to transfer the science and farming techniques. Thus, the model of culturing giant river prawn in rice fields has brought in high yield and helped raise income for local farmers.
VFM