Aquaculture
Cà Mau: Farmers rise income from nursing blood cockle spats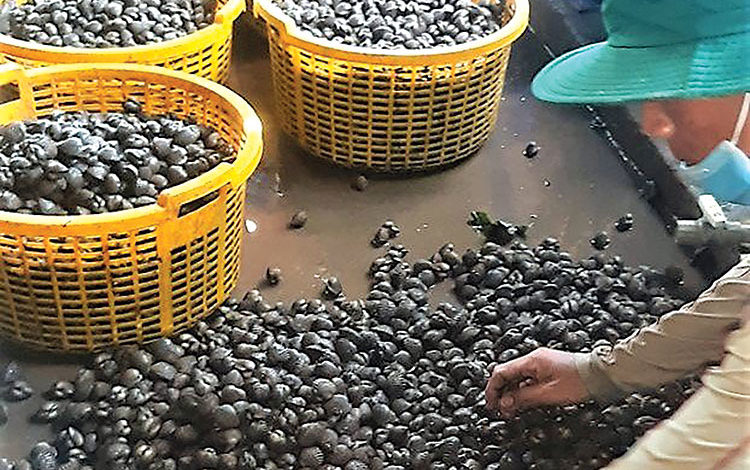 After years of applying the polyculture of blood cockle in shrimp ponds, not only have farmers of Cái Nước district of Cà Mau province gained experiences of rearing commercial blood cockle and sold them at high prices, but also they could nurse blood cockle spats in their houses to save money and enhance productivity.
Cái Nước district has over 30,000 ha of aquaculture area, with more than 3,000 ha used for polyculture of blood cockles and shrimp, mainly in Trần Thới, Ðông Thới, Ðông Hưng, Tân Hưng, Tân Hưng Ðông communes and Cái Nước town. This is a high economic farming model as farmers just have to invest into juveniles without spending on feed and chemical substances for environmental treatment.
So as to help farmers save costs on juveniles, some cooperatives related to blood cockle culture in Cái Nước district supply blood cockle spats size 1-2 thousand pcs/kg. Thus, farmers can buy and stock them directly in shrimp ponds. Besides blood cockle larvae are sold to farmers for self-nursery and savings on breeding stocks.
Farmer Huỳnh Văn Phục, in Trần Mót hamlet of Tân Hưng Đông commune, shared: "In 2022, my family invested 40 million dong into blood cockle spats size 2 thousand pcs/kg, 150 dong each, and stocked them directly in the shrimp pond. Partial harvest was conducted after ten months and commercial blood cockles size 100 pcs/kg were sold at over 100 thousand dong/kg, he earned nearly 40 million dong. Small size blood cockles continued to be reared and about 700 kg would be harvested. With the current market price of commercial blood cockles, he intended to earn more than 100 million dong from the intercropping of blood cockles and shrimp".
Phục bought blood cockle spats for self-nursery so as to save money on breeding stocks. In his opinion, besides saving money, this brought benefits to farmers as blood cockle spats could adapt to the environment and salinity promptly and the mortality rate is lower than stocking blood cockles bought from other places.
VFM