Aquaculture
Cà Mau's direction for a responsible fishery industry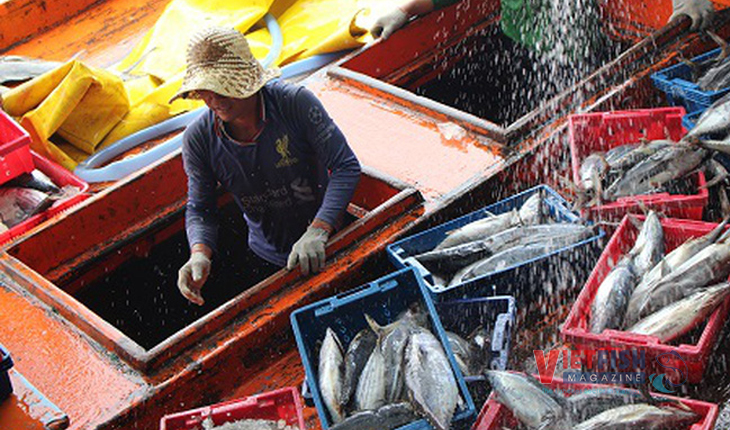 With three sides bordering the ocean, Cà Mau has been attracting various vehicles coming for marine exploitation, contributing a lot to the local economy development. The province is building many decisive and integrated solutions to aim a modern and responsible fishery industry.
Cà Mau is the first province installing the surveillance camera system to oversee the fishing boats. In 2018, Cà Mau reduced the number of trespassing boats and in 2019 the ocean situation has been completely controlled.
The itinerary surveillance center is operated and managed by the Cà Mau provincial Border Defense Force. The center has two 55-inch screens connected with computers, helping realize all signals from the fishing boat including the parking ones.A single click will release every information from the boat registration number, capacity, captain's name to boat owner's name, address, and phone number on the screen. More than 1,000 compulsory boats have been installing the surveillance cameras so far.
A boat owner of the Sông Đốc town of Trần Văn Thời district said: "When I gave my boat to the captain for his fishing trip before, I had no idea about where he was, I just knew the location of my boat because he said so. But it's different now, I just need my phone to know where my boat is, working or parking. If my boat trespasses the foreign ocean, the signal will be sent, and the Border Defense officer will request the boat to come back. It costs some million dong to install the surveillance camera but it does help control the boat–which is valued as much as billions dong. We feel assured".
Vice Chairman of Sông Đốc town People's Committee Lâm Văn Phú said that the marine exploitation activities have been stable since the surveillance camera system was installed.The cooperation and support each other, especially to shelter from the storms and natural disasters works more effectively. The local authorities work with forces, especially the Border Defense and Agriculture sector to prohibit those who fail to register after the expiration date and refuse to install the surveillance camera from going to the sea. Deputy director of the Agriculture and Rural Development department said the sector will continue to check and handle the boats in contravention of the regulation. A force was sent to monitor the offshore fishing activities. Local fishermen's awareness has been raised and the local political institutionsare making great effort to manage and survey the fishing boats with an aim to remove the "yellow card" and take back the "green card" and giving Cà Mau a stable and sustainable marine exploitation sector.
VFM