Aquaculture
Cà Mau: Increase in gasoline prices cause difficulties to super intensive shrimp farmers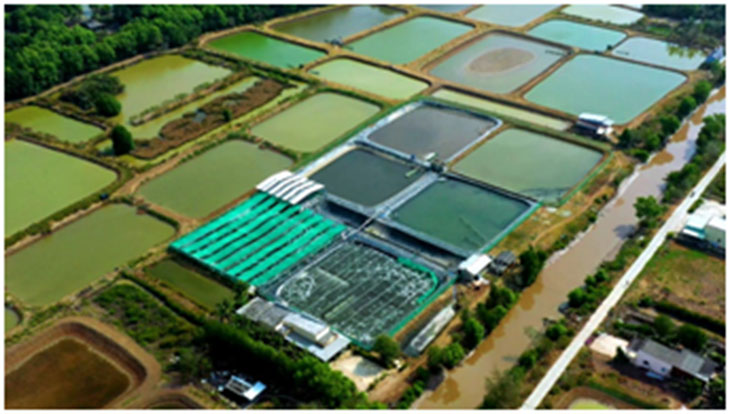 The skyrocketing of gasoline prices has affected directly to the production and seafood aquaculture of farmers in Cái Nước district. The super intensive shrimp farms were hit the worst when expenses on transportation of feed, chemical substances and materials increased sharply. The area of super intensive shrimp farms has reduced from the same period last year.
According to statistics, Cái Nước district has had nearly 470 super intensive shrimp farms, with over 670 ponds on 100 ha of land, 50ha of which has been harvested, 50 tons/ha/crop on average, producing more than 2.500 tons. The stocking area has reduced by 42ha from the same period last year.
Huỳnh Xuân Diện, Chairman of the Management Board of the Shrimp farming Cooperative of high productivity in Tân Hưng commune said that since the fuel prices rose to record highs, prices of feed have increased up to 39-42 thousand dong/kg, up 900-1,200 dong/kg. Despite slight increases, the super intensive shrimp farms have been badly affected as a large amount of feed has been required. One kilogram of 100 count shrimp required 1-1.1 kg of feed; thus, every single hectare of the super intensive shrimp farm, which produces 45-50 tons of material shrimp, needs 45-50 tons of feed. When prices of feed increase further 900-1,200 dong/kg and transportation fee rises also, farmers must spend another 40-60 million dong on feeding one hectare of super intensive shrimp farm.
Not only has feed cost increased, but all commodities related to aquaculture have been rising; meanwhile prices of raw material shrimp are experiencing a downward trend. Farmgate prices of white leg shrimp, 100 pcs/kg, are less than 100 thousand dong/kg, making it hard for super intensive shrimp to be sold.
Farmer Nguyễn Thanh Việt in Trần Mót hamlet of Tân Hưng Đông commune with more than 10 years of experience in super intensive shrimp farming said that was the first time he had faced such difficulties. Earlier this year, white leg shrimp, 100 pcs/kg, which was bought at the price of 100 thousand dong/kg by traders earlier this year, now drop to 98 thousand dong/kg and frequently fluctuate. Most of local farmers related to super intensive shrimp farming in Cái Nước district are calculating the investment cost to choose the right time for harvesting and selling.
VFM