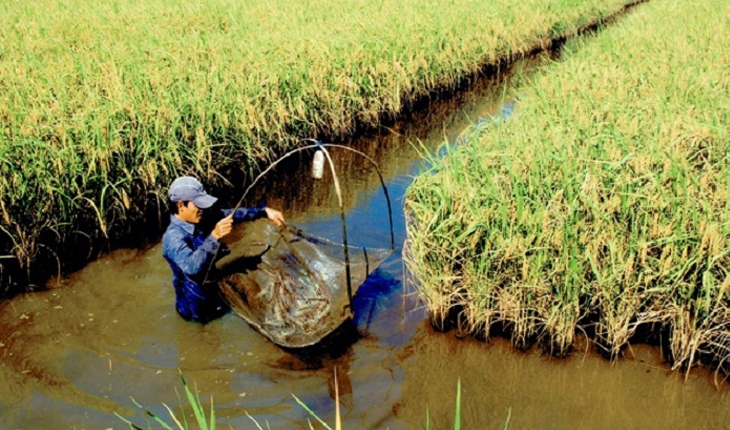 The agricultural experts highly evaluate the shrimp-rice model in the Mekong Delta for its suitability with local soil and environment.
The 2020 Vietnamese shrimp Forum titled "The application of science and technology in sustainable development of shrimp-rice model in the Mekong Delta" was held by the Ministry of Agriculture and Rural Development (MARD) and Bạc Liêu's People's Committee on October 05.
Threefold increase in shrimp-rice farm square
Shrimp-rice is an icon of the saline sodic soil in the Mekong Delta (salinity intrusion occurs from December to May every year). Dry season is suitable for rice cultivation as it takes advantage of rain for desalination and water salinity decreases. In the rest months when salinity intrusion occurs, rice fields become shrimp ponds with natural nursery and feed provision.
In the plan of fighting against climate change and sea level rise, shrimp-rice is put into the first priority so as to adapt to salinity intrusion. Back in 2000, the shrimp-rice field in the Mekong Delta reached 71.000 ha and increased to more than 211,900ha in 2020 with an estimation of more than 84,700 tons. The most abundant crops were recorded in Kiên Giang (around 100,000ha), Bạc Liêu (over 57,800ha), Cà Mau (over 38,000ha), and Sóc Trăng (over 9,700ha). With the strength of natural conditions, farmers can carry out one crop of shrimp and one crop of rice, bringing in 60-70 million dong/ha/year.
Mã Văn Hồng, Director of Hoà Đê Agriculture Cooperative (Mỹ Xuyên district of Sóc Trăng province) said that the Cooperative was established in 2014 with 16 members and now has 78 members participating in shrimp-rice model and cash crops. Then, the Cooperative shifted to cultivate ST5 rice in accordance with plan and directives by the Department of Agriculture and Rural Development, producing high yield and making selling prices high. From 2016 to 2019, the Cooperative started to produce organic shrimps under the support of companies that already enter consumption contracts with farmers so as to develop ST20 and ST24 rice.
Besides, Hồng said that with this model, farmers can take advantage of embankment to cultivate cash crops. Moreover, farmers raise fish and little ducks that eat insects harmful to rice. Rice and shrimps in this kind of field are more delicious than the ones taking drugs, chemical substances, and antibiotics even though prices of rice cultivated in a shrimp-rice field are higher than ordinary rice.
Organic shrimp-rice
In his speech in the forum, Doctor Vũ Nam Sơn of the Fishery Department of Cần Thơ University said that shrimp-rice practice and organic shrimp farms help add more value to products. However, the question is what parameters in organic shrimp decide the difference between this kind of shrimp and ordinary ones. This is the basis to recognize the value and enhance the competitiveness in markets.
Many delegates said that shrimp-rice practice is affected by wastewater discharged from rice or shrimp specialized farms, resulting in cross infection. Besides, post larvae production, quality and environment have not been paid attention while rice production depends much on weather and freshwater sources, thus, local farmers have not worked together to set up a model, make soil and seed at the same time.
"Cultivating rice after rearing shrimps will prevent saltwater from intruding soil because we can be proactive in desalination. If we spent all the time rearing shrimps, saline sodic soil can't be used for planting. ST25 rice has been recognized as the most delicious rice in the world as it can resist diseases without using pesticides and insecticides", said Hồ Quang Cua, "farther" of ST25 rice.
According to experts, production of organic shrimp-rice requires a process. In this mode, organic rice is required to produce organic shrimps. Meanwhile, only black tiger shrimps produced from mangrove-shrimp farms in Cà Mau are recognized organic ones.
VFM