Aquaculture
Fear of flood, farmers began panic selling their cage farmed fish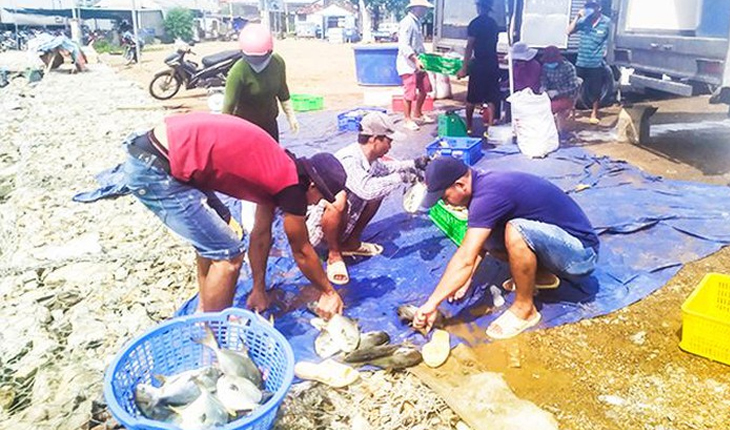 In the face of the overwhelming weather, cobia and pompano farmers in Vạn Ninh coastal area (Khánh Hoà province) are bailing out all the fish even though they haven't reached harvest sizes.
In the morning of Oct 18, 2020, tens of households related to pompano farming crowded in the Vạn Giã fishing port (in Vạn Ninh district) to sell traders who already prepared tens of frozen lorries parked in a long line waiting for loading those pompanos. Nhận, an experienced pompano farmer in Vạn Giã town said that his family had nearly 70 cages and he sold 1-1.5 tons of pompanos each day for the last three days. "The prolonged heavy rains under the influence of tropical depression made us so worried and reminded local farmers of the storm no.12 in 2017. Thus, we all hurry up making an early harvest to bail out as much species as possible when being aware of a coming storm. Those pompanos are around 0.5kg while 0.8kg is required, hence, they are priced as much as 70% of harvest-sized ones. However, we prefer suffering some loss rather than being empty-handed as before", said Nhặn.
Farmer Lin (in Vạn Giã town) said that it should have been an abundant crop of cobia and pompano this year, with an expected large amount of profit. However, due to early harvest, cobia was sold at 100,000-110,000 dong/kg, down 20,000-30,000 dong from the past. He is suffering an estimated loss of around 300 million dong from 50 cages. "I just hope to take back the invested amount, including expenses on postlarvae and feed and excluding working effort and monthly bank interests. I'd prefer that so that I'll have some money to invest into the next crop after Oct 23", said Lin.
According to many farmers, not only did farmers suffer from price squeezing by traders, but heavy rain and water from the upper stream mudded the ocean, plus continuing trawlers have killed small fishes (under 0.5kg), leading to extremely low prices. A trader said that he used to purchase 10-15 tons of fish per day; however as farmers are selling a large amount of fish, a twofold or threefold increase in purchased amount will make it difficult to consume, resulting in lower prices than usual. According to the reporter, cobia or pompano farmers in Vạn Ninh sell nearly 100 tons of fish per day. However, most of the farmers sell 50-60% of the fish as some wait for fish weighing up to the harvest sizes due to low prices.
Phạm Ngọc Luyện, deputy head of the Economic Office in Vạn Ninh district said that the district now has around 4,000 cages of cobia and pompano located in Vạn Giã town and Vạn Thành commune. This year, local farmers have favorable conditions in culturing marine species and stocking areas haven't suffered from any natural disasters. However, due to the overwhelming weather at the end of the year, local authorities have frequently made notifications to farmers so that they will adopt necessary measures for prevention.
VFM