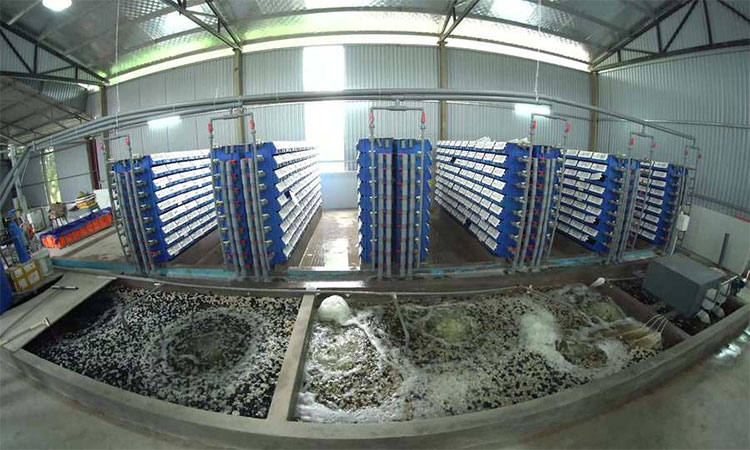 The mud crab farming model in plastic houses associated with RAS system has been newly introduced in Vietnam, bringing in high economic efficiency.
The mud crab indoor farming model was first introduced in Vietnam in 2019. About five months ago, Lê Đức Cảnh, 37 in Vạn Phúc of Thanh Trì, applied this model in Hà Nội for the first time.
His staff starts the day at 7 a.m in the 300m2 farm to feed and take care of crabs.
Văn Lực, an engineer in Cảnh's farm, said that he is assigned to check the salinity degree, mineral and other ingredients in water at least three times a day. The crabs must be fed three meals per day. "If crabs eat well, their meat will be tight and tasty. Their feed is snail, clam, and fish", said Lực.
So as to save the area, the crabs live in the "mini vertical houses" piled up by plastic boxes with numbers on them. After 20-45 days living in the boxes, crabs reach the size of 4 pcs/kg and are harvested.
Cảnh spent around 450 million dong to have saltwater tanks transported from Hạ Long to Hà Nội.
"There are more than 1,000 boxes in his farm. The crabs are reared separately in different boxes to prevent them from eating each other and facilitate the management. Besides, water is changed once a year to assure crabs to live well. As water evaporates within a year, we add 30% of freshwater and artificial salt", said Cảnh. 
In Cảnh's opinion, crab indoor farming is not affected by weather, costs just a few labors to take care of, and shortens the farming period by about two months as compared to the extensive practice. However, farming in plastic boxes requires qualified water sources for crabs to grow up.
RAS system is installed with oxygen aerators. The leftover feed and disposal of crabs will be filtered before going to a probiotic tank and the UV based sterilization system. Microorganisms living on kaldnes media play as coral to filter leftover feed and disposal of crabs so as to clean the environment.
"Crabs live under the perfect temperature of 20-35 degrees, weigh up better in summer than winter and die when temperature falls down to below 10 degrees. Thus, I have to turn on the air conditioner in winter to keep them warm', said Cảnh.
Two species of crab are being reared, one of them is soft shell crabs which are highly nutritious and sold at 840,000 dong per kilogram.
VFM