Aquaculture
Kiên Giang: Build a large field of shrimp-rice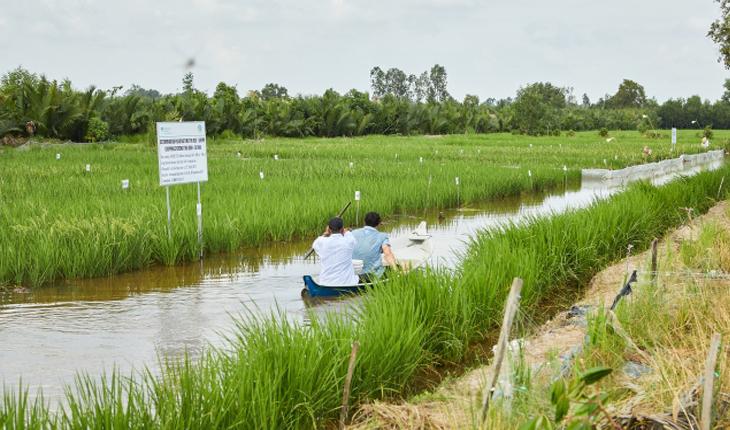 The project aims to build a large field which meets standards of scale and synchronous technical appliances, and produces high yield with high quality.
With an aim to develop the centralized production, build a material area, bring out high yield of quality product, embrace to sign sales contracts, the Agriculture Extension Center of Kiên Giang worked with the Office of Agriculture and Rural Development of Vĩnh Thuận district, Vĩnh Thuận's People's Committee to develop the Project of building a shrimp field with lower production cost in 2019 in Vĩnh Trinh and Kênh 14 hamlets of Vĩnh Thuận commune, Vĩnh Thuận district.
As many as 43 households participated in the project with 90ha being designated to post larvae stocking from Jan 09 to Jan 30, 2020 and nearly 5 million dong was given to each.
The environment conditions have been evaluated to suit farm-raised shrimps since early crop, farmers are experienced, and stocked shrimps have been provided by credible facilities.
The harvest size reaches 34.5 pcs/kg on average, ranging from 30 to 40 pcs. The average survival rate meets requirements of the model. Productivity reaches 467kg/ha, ranging from 400 to 520 kg/ha and going beyond the expectation. The average price of black tiger shrimp is 139,000 dong/kg.
However, the COVID-19 disrupting the economy in 2020 has made prices of commercial shrimp lower than previous years and shown low economic efficiency of the model.
Besides, summer heat has caused deleterious effects to the farming environment, leaving shrimps a bit of a shock.
One hectare of this model costs more than 25 million dong while revenue of a crop reaches over 66 million dong/ga, leaving a profit of nearly 41 million dong/ha/crop.
VFM