Aquaculture
Kiên Giang: Farmers raise their income thanks to rearing tortoise instead of rice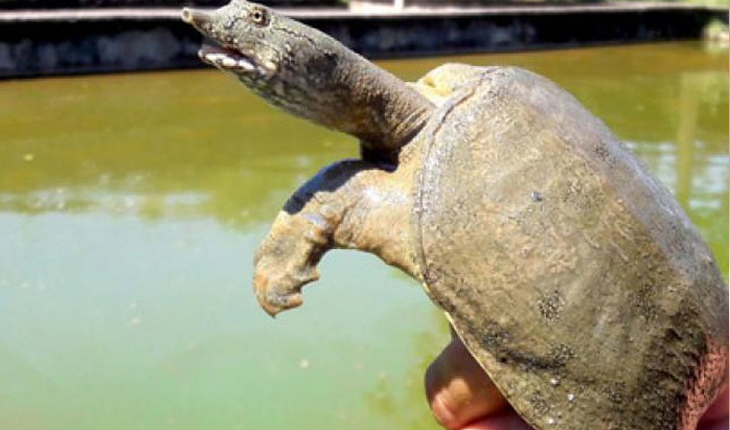 Many farmers in Kiên Giang changed their lives by rearing tortoises after suffering loss from rice fields. Some earn over 250 million dong from selling tortoises and baby tortoises.
As many as 12,000 tortoises are stocked in only 1ha of land, but high economic efficiency has been brought. This is the story of farmer Nguyễn Tùng Lâm in Định Hoà commune of Gò Quao district (Kiên Giang).
With 10 years of rearing tortoises, Lâm made a place for tortoises to lay eggs, harvest eggs and nurse baby tortoises for sales. Lâm has now around 1,000 tortoise broodstocks, 11,000 meat tortoises to sell restaurants.
 Lâm said: "I faced difficulties in cultivating rice without a drainage system, thus I changed into tortoise rearing". He bought 1,000 baby tortoises and suffered from a big mortality rate due to a lack of technique, resulting in a failure. Nevertheless, he continued to try again and was patient to learn from newspapers, books, and friends. His achievements are now beyond expectation. Not only has he raised income from selling meat tortoises, Lâm has gained valuable experiences in breeding tortoises. Thus, he uses profits from selling baby tortoises to buy feed for meat tortoises, keeping his capital rotating.
Every morning, Lâm collects around 500 eggs and puts them under the sand for nursery. He says: "It takes 45 days for eggs to hatch, then baby tortoises will be taken to the outside environment and fed further 20 days before being sold. Tortoise broodstocks must be 2 years old to produce good quality eggs".
Every month, Lâm sells around 5,000 baby tortoises at 4 thousand dong each. As Lâm's model has brought high efficiency with low production cost, more than 50 households have followed this model and achieved good results. After 18 months, tortoises can weigh up more than 1.5kg, with prices ranging around 300 thousand dong/kg.
Nguyễn Duy Khánh, Chairman of Farmers Society in Định Hoà commune of Gò Quao district, Kiên Giang province said that local farmers have got used to cultivating rice, thus it's not easy for them to change into another species. Lâm's case deserves to be a role model for local farmers to follow. "Farmers Society has been trying to look for loans to create conditions for farmers to produce", added Khánh.
VFM