Aquaculture
Nam Định: Enrich from indoor sweet snail production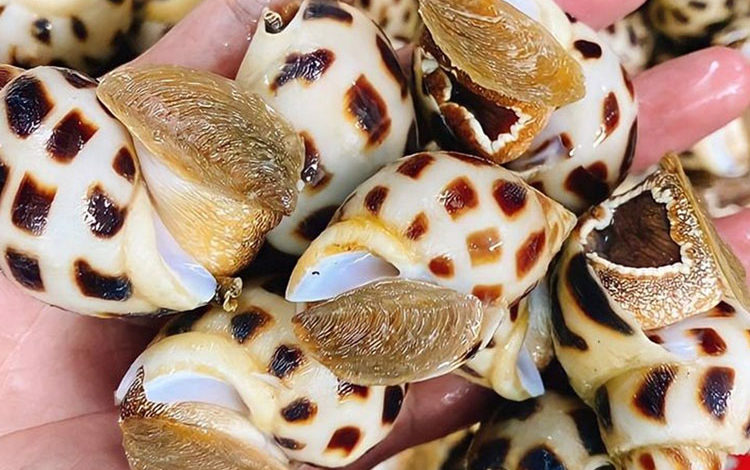 Farmer Nguyễn Văn Bình, 39, in Hải Chính commune (Hải Hậu, Nam Định) was the first one who invested and succeeded with indoor commercial production of sweet snail. The model has brought great economic efficiency and as a result is evaluated to need further research to multiply in coastal areas of the province.s
In 2020, Bình had one forth of the shrimp and fish farming pond rehabilated for production of sweet snail. He came to sweet snail farming facilities in Nha Trang (Khánh Hòa) to learn about how to rear this species. 
After learning about the farming technique, he spent 21 million dong on buying 300 thousand sweet snail seeds which then were stocked in the 1,000 m2 farm. Because of lack of experience, many sweet snails were dead. He learnt from the practical experience and concluded that "three clean" must be followed: "eat clean, sleep clean, rest clean". In the second crop, he installed more frame and mesh above to reduce the sunlight and rain falling directly down the grow-out pond, and built a settling pond to filter water before pumping it to the pond.
Thanks to strictly follow the techniques and the "three clean" regulations, the sweet snails have weighed up well without infecting with diseases; as a result, he achieved success in the next crops. His farm is now expanded up to 5,000m2, including a settling pond and seven grow-out ponds to rear sweet snails  commercially in three stages with spatial overlapping being conducted in the crop farming works. Bình said that as many as 15 tons of commercial sweet snails were sold every year at 250-350 thousand dong per kilogram, leaving the profit after cost of about 2 billion dong.
In Bình's opinion, despite a huge amount of production cost, the farming technique of sweet snail is simple, management is easy, this species brings high economic value and is easily consumed. Antibiotics is prohibited or must assure food safety regulations. Bình said that commercial grow-out pond should be divided into small ponds, 100-300m2 each, for easy management. The bottom shoud be lined with canvas, and filled with sand, 15-20cm thick. Thanks to the mesh shelter to reduce sunlight and rain, the water level should only be 20-25cm so that sweet snails should be easily controlled.
Bình buys sweet snail seeds from credible production facilities in Nha Trang. They are fed oyster gut, soft shrimp, and fresh low value commercial fish. The farming is divided into three stages. If regulations of broodstocks, feed, environment and farming technique are strictly followed, snails can weigh up to the size of 80-100 pcs/kg after 10-11 months.
Excess demand is the problem in the market of sweet snail. Bình's sweet snails are sold to restaurants and hotels in Hà Nội and tourists. Water in grow-out ponds and sweet snails are taken sample for test of quality in professional institutes by himself with an aim to achieve the OCOP certificate.
VFM