Aquaculture
Trà Vinh: Intensive shrimp farming at high density brings in huge profit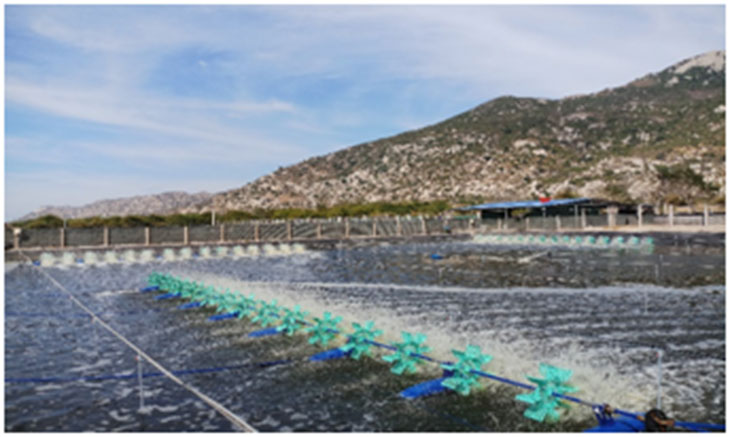 In 2021, farmers in coastal districts such as Cầu Ngang and Duyên Hải, and Duyên Hải town replaced semi-intensive and intensive culture of black tiger shrimp and white leg shrimp in earthen ponds with hitech based intensive culture in inland ponds and lined earthen ponds, which brought in VND 400 million/ha/crop. 
According to Director of Trà Vinh's Sub-department of Fisheries Nguyễn Văn Quốc, around 350 ha of semi-intensive and intensive earthen ponds had been replaced by hitech intensive ponds, leaving the total area of the provincial hitech shrimp farms up to over 840 ha. 
The Duyên Hải commune ranks the first position in shifting to hitech intensive farm in 2021 with more than 185 ha being recorded. Hitech shrimp farming produces 50-55 tons/ha on average and farmers can earn about VND 400 million/ha/crop as compared to the traditional intensive practice. 
Farmer Trịnh Thị Loan in Mỹ Long Nam commune of Cầu Ngang district said that the model of rearing shrimp in hitech intensive ponds had lots of advantages and assured the sustainability. As the bottom and the side of the grow-out pond is lined, it prevents pathogens in the soil from penetrating into shrimp and helps farmers to well manage the water environment in terms of salinity and pH.
On her 1.5 ha land, Loan arranges eight grow-out ponds, 1.600m2 each, with the same entirely closed water treatment pond without discharging into the environment. Two crops of white leg shrimp are implemented, producing more than 100 tons of commercial shrimp, leaving the retained earning of more than five billion dong.
Director of the Trà Vinh provincial Department of Agriculture and Rural Development Phạm Minh Truyền said that local farmers with enough capital and land have been encouraged to shift to hitech intensive shrimp culture to raise income. The super-intensive shrimp culture model with high technology application requires at least one hectare of land and a three billion dong capital to build the infrastructure and install machines and equipment.
So as to encourage local farmers to shift to the new culture model, Trà Vinh province carries out the project of building, managing and developing the trademark "Trà Vinh shrimp". This aims to advertise and find loyal customers for local shrimp products. The province plans to support the shrimp culture in salt and brackish water areas in a sustainable direction of development, aiming to have 28,000 ha of land be used in shrimp farming in 2030.
VFM