News
Marine farming industrial scale: The direction of the future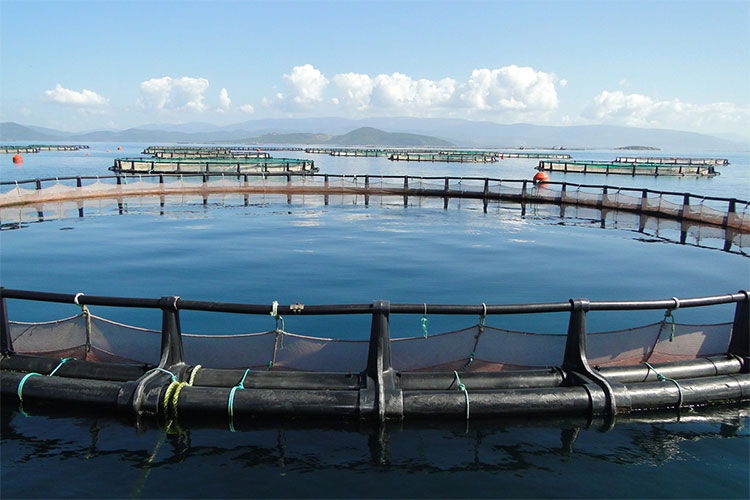 The Prime Minister has recently approved a project on marine aquaculture development to 2030, with a vision to 2045. The goal is to raise aquaculture on an industrial scale by applying advanced technology in the high seas in a vast area. Khánh Hòa is currently the largest industrial marine fish farming center nationwide. Khánh Hòa will promote the strategy of raising marine fish much larger. However, there are some problems happening. 
Don't let planning follow reality
Khánh Hòa waters were the first in Vietnam to experiment with industrial-scale marine farming technologies. In 2000, Ngọc Trai Company invested in raising marine cage farming (HDPE) in Vạn Thạnh commune, Vạn Ninh district. In 2006, Majine Fams ASA Company (Norway) imported all equipment and technologies for industrial-scale marine fish farming in Vân Phong. In 2007, Squadron 129 implemented the project "Pilot aquaculture on Đá Tây island" in Trường Sa district. In 2013, the Aquaculture Research Institute I launched a project on marine aquaculture on an industrial scale in Vân Phong bay. In 2020, Mr. Nguyễn Xuân Hòa (Vạn Giá town, Vạn Ninh district) invested in rearing marine fish with HDPE round cages in Vân Phong bay. These are pioneers of industrial-scale marine farming.
The government has adopted policies to encourage individuals and businesses to invest more money in aquaculture. This approach is suitable for marine economic development. In Khánh Hòa, the density of industrial marine fish farming is still lower than the area of the bays and the high seas of the province. According to experts in the aquaculture field, functional agencies and local authorities in the province need to identify the major problems of industrial-scale marine culture to avoid heavy economic losses.
After many years of success in marine fish farming on an industrial scale, Mr. Joshua Nathan Goldman – General Director of Australis Seafood Co., Ltd. Vietnam stated: "The clean water environment determines the success or failure of aquaculture at sea. It is necessary to control diseases with the entire ecosystem of the farming area, which means paying attention to ​​the community's farming area. The authorities should plan farming areas as soon as possible so that households and businesses can decide how much money to invest in boats, cages, and nets. The distance between two farming households should be 1,000 meters apart to limit disease infections". 
Towards selling in the "global market"
As a result of the COVID-19 pandemic, the number of tourists visiting Khánh Hòa is low, making fish cage culture harder to consume. The output reaches tens of thousands of tons each year, so they need to be exported to foreign markets. Currently, most importers of seafood and agricultural products require product traceability certificates. Therefore, the People's Committee must coordinate with the Ministry of Agriculture and Rural Development to issue regulations on industrial-scale marine aquaculture that meet GlobalGap standards. This can be seen as a "ticket" to sell fish in the "global market" because the VietGap standard is only valid in the domestic market.
If the GlobalGap standard is applied to each household or small farming enterprise, the production cost will be very high. Therefore, households, fishermen, and businesses should cooperate with each other like an agricultural production cooperative. "In this way when applying GlobalGap standards, the total farming area and fish output will increase, the cost will be lower by dividing the cost equally for each cage. On the other hand, cooperatives can negotiate directly with feed companies at the lowest prices thanks to high fish output. Furthermore, they can process for export by themselves or sell directly to retailers and supermarkets. These options need to be considered when farming industrial-scale fish to avoid being in inventory", said  Dr. Ngô Văn Mạnh, Head of Aquaculture Techniques Department, Institute of Aquaculture (Nha Trang University).
Investment linkages is a need
Mr. Phạm Đức Phương, Director of the Center for High-Tech Aquaculture, Research Institute of Aquaculture I, said: "Raising marine fish with large cages is often in deep water with strong currents, so high technology and high-quality materials are required. Storm No. 12 (in 2017) directly hit Khanh Hoa and destroyed the cages and rafts in Vạn Ninh, Ninh Hòa, Nha Trang. However, all the marine fish cages at the Institute for Aquaculture Research I in Vân Phong Bay were not damaged. The storm No. 12 has shown numerous shortcomings in using the appropriate materials for marine farming, the durability of the farming net, and so on. This is the harshest and most effective practical test at sea". 
According to Mr. Phương, people should not use ordinary water pipes to make industrial marine fish cages because these are easily broken when storms enter. Therefore, plastic pipes made in Norway with high durability and resistance should be chosen since Vietnam has not produced any kind of tube for making marine fish cages.
Mr. Joshua Nathan Goldman – General Director of Australis Seafood Co., Ltd. Vietnam stated that industrial-scale marine fish farming required long-term investment. Three key issues must be addressed: cautious seed selection, disease control by the entire farming environment, and market diversification. Every year, the company's fish output in Vân Phong Bay exceeded 5,000 tons with 3 main consumption markets being the US, Europe, and Japan.