Aquaculture
Price of commercial lobster slumps, leaving serious loss to farmers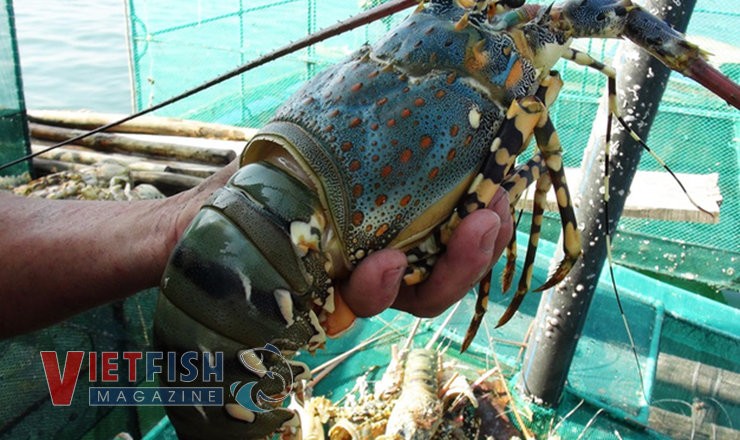 In Khánh Hòa, prices of commercial lobster of all kinds have slumped, especially rock lobsters which are ranging from 1 to 1.1 million dong per kilogram (type 1), leaving serious loss to farmers.
On 23 July, Chairman of Farmers Society in Cam Bình commune (of Cam Ranh city), which is the shrimp capital of KhánhHòa, said that local prices of commercial shrimp are extremely cheap.
Particularly, price of green lobsters ranges from 400 to 550 thousand dong/kg, down 50-100 thousand dong/kg, price of rock lobsters (grade 1) are from 1-1.1 million dong/kg, down 500-600 thousand dong/kg as compared to the previous month. Farmers are suffering from serious loss, from at least hundreds of million dong to billions.
"I stocked 2,000 rock lobsters, worth 250-300 thousand each, last January (lunar calendar). I lost half of them during the farming. I've just decided to sell them at 1.1-1.2 million dong/kg and earned more than 200 million dong; meanwhile I spent nearly one billion on this crop", said Danh.Nguyễn Hữu Danh, a lobster farmer in Bình Ba Tây village of Cam Bình commune confirmed his loss of around 700 million dong although he owned just as little as 20 cages.
In Danh's opinion, green lobster farmers suffer slighter loss than rock lobsters due to less investment. However, cheap price and high rate of mortality have caused farmers great loss. Particularly, they may lose at least 100-200 million dong from selling 3,000 lobsters at 400-550 thousand dong/kg.
According to Chairman of Farmers Society of Vạn Thạnh commune, price of rock lobsters are over one million dong/kg and green lobster 500-600 thousand dong/kg. Moreover, traders are very selective to buy only lobster type 1 and rock lobsters at least 1kg each. Slump in price has made farmers suffer great loss, some of them refuse to stock lobsters after this crop.
Such slump in price happened when China tightened the border trade, leaving a large number of stagnant lobsters at the custom. The situation was confirmed by Nguyễn Trọng Chánh, Head of Fishery Sub-department of Khánh Hòa and announced to local areas and farmers so that they are aware of direct export and traceability. Farmers havebeen spontaneous in culturing lobsters and not paid attention to issues that was recommended by competent authorities. So, Fishery Sub-department continues guiding farmers to stock lobsters as planning, register with authorities, and apply safety biology system and traceability. Besides, they instruct farmers to set up production team or farming cooperatives in charge of working with companies for more stable consumption.
VFM