Aquaculture
Protect trademark of Bình Thuận shrimp breeding stock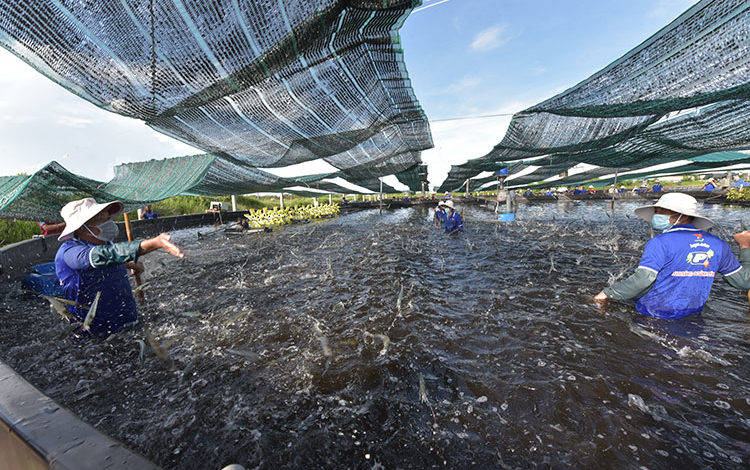 The Bình Thuận Shrimp Society will report shortages in producing and trading shrimp breeding stocks to protect credibility and trademark of the Bình Thuận shrimp.
On August 01, the Bình Thuận Shrimp Society held the third General meeting, period 2023 – 2028 in Tuy Phong district of Bình Thuận province. Phạm Ngọc Đồng, Director of Viet Duc Seafood Ltd.,Co and Vice Chairman of Bình Thuận Shrimp Society reported the operations during the second period (2015 – 2020).
Bình Thuận Shrimp Society has 35 members, producing about 20 billion PLs, accounting for nearly 80% of the province's total breeding stocks and 20% of the country's. Shrimp breeding stocks of Bình Thuận are purchased nationwide and highly evaluated for quality and credibility.
Besides achievements, Bình Thuận Shrimp Society hasn't been able to help members improve their product quality and support them to advertise and enter product offtake contracts.
Thus, the Society works out eight tasks related to environmental warning for proactive production, control of aquafeed and drug prices, frequent instruction of farming technique, update on information and policies of provincial shrimp seed plan to keep all members posted.
The Society will protect the credibility of the Bình Thuận shrimp breeding stock trademark because Nauplius is being traded in other provinces with broodstocks untraced. Even disqualified breeding stocks are packed with fake labels printing credible producers' names. Besides, domestication for selection of breeding stocks is not strictly supervised, resulting in disqualified broodstocks.
"These are not problems of Bình Thuận, but somehow the fraud affects the trademark of Bình Thuận breeding stocks. Thus, the Society proposes to Ministries and relevant sectors to protect the provincial shrimp sector for sustainable development and secure the legal rights of members", said Phạm Ngọc Đồng.
VFM