Aquaculture
Quảng Ninh: A farmer invests 80 billion dong into a hi-tech shrimp farm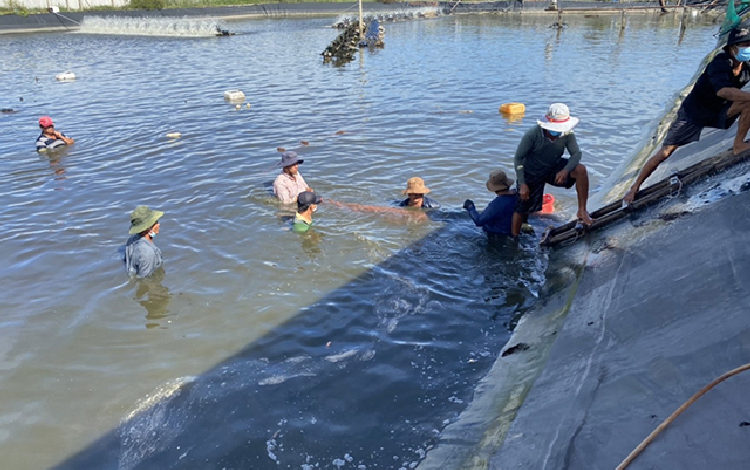 Đặng Bá Mạnh in Đồng Cói village of Cộng Hòa commune, Cẩm Phả city has invested 80 billion dong (nearly USD 4 million) into a large scale hi-tech based shrimp farm.
Mạnh started to build the hi-tech based shrimp farming area with three phases in October 2022, within a 6 ha greenhouse, 4ha of which is used for water treatment and storage and 2ha for shrimp farming ponds. After nearly a year of construction, around 70% of the project has been completed, including 12 shrimp ponds ranging between 500m2 and 1,000m2 each, and 7 water reservoirs.
In this model, seawater is pumped into two 2-hectare storage ponds, then passed through a raw water treatment system before entering the sedimentation ponds. Finally, when the water meets the required standards, it is released into three shrimp ponds, 3,000m² each, equivalent to 6,000m³ each.
For the health of the shrimp, HDPE liners are used in the ponds to prevent water seepage and limit soil sedimentation that could pollute the shrimp farming water. Besides, various systems are equipped, including a water filtration system, oxygen supply system for the shrimp, and an automated lighting system. The completion and operation of the shrimp farming area are expected by the end of 2023.
Mạnh said that, in the first phase, shrimps are raised in a sheltered raceway with HDPE liners. They can reach the size of 1-2 grams each. In the second phase, shrimps are transferred to sheltered ponds with HDPE liners, where the water level ranges from 1.2 to 1.5 meters. On average, each phase lasts about 1 month before the third phase continues. In the third phase, shrimp are released into the largest ponds, which also have HDPE liners and shelters. The stocking density in this phase can range from 200 to 250 shrimp/m². Harvesting can take place approximately 90 days after stocking when shrimp reach the size of 35 – 40 count.
Because the farming area is near the sea and can access abundant seawater,  Mạnh does not use a recirculating water system but replaces the water daily. Used water from shrimp farming is discharged into sedimentation ponds for treatment before being released into the sea. Mạnh hopes that with the operation of his three-phase shrimp farming model, he will be able to supply shrimp year-round and provide stable jobs for around 50 local residents.
VFM