Aquaculture
Vĩnh Long expands frog-red tilapia polyculture farms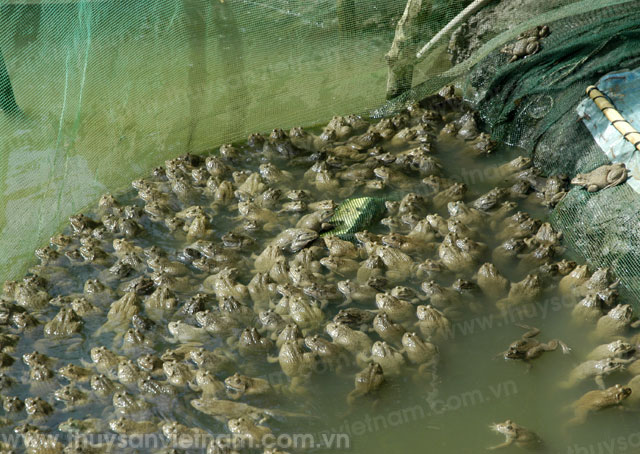 Vĩnh Long's Agriculture Extension Center has farmed commercial frogs with red tilapia in a pond raceway system economically and commensurately to farming skills of local farmers.
Farmer Trần Tuấn Anh in Nhơn Bình commune, Trà Ôn district, was supported to farm frogs and red tilapias in a pond raceway system by Vĩnh Long's Agriculture Extension Center. As this model was newly introduced to Nhơn Bình's farmers, Tuấn Anh was guided carefully with farming techniques. Tuấn Anh set up two pond raceway systems by plastic net in an 30m2 area, 1-1.2m high, with a cover plate to prevent frogs from jumping out of the pond and being attacked by other animals. The raceway system is hung in the pond with the bottom being awash with water up to 20-30cm. Beneath the raceway system is installed with cellular panels to make it float and become an area for frogs to relax, sunbathe and eat. Tuấn Anh stocked 2,500 frogs and 2,000 red tilapias, with survival rate reaching 80% after two months and frogs weighing up to size 3-4 pcs/kg. He brought in an output of 420kg frogs and earned 18 million dong from 45,000 dong/kg price. As red tilapias have not reached the harvest size, he continues with farming.
Tuấn Anh said it was easy to rear frogs because this species is difficult to get infected with diseases, resulting in hardly any treatment cost. He can take the initiative in feed. With the second crop, he earned 10 million dong profit from selling frogs after two months and a half of stocking. When red tilapia reached the harvest size, he sold them at 25,999 dong/kg and earned 5 million dong. From this success, he invested into another 3,000 frogs.
Households in the neighborhood came to learn and invested into pond raceway systems with 2,000 – 3,000 frogs each. This model is participated by another 30 households in Trà Côn, Tân Mỹ, Hòa Bình, Vĩnh Xuân, Thuận Thới communes, with a total of 3,000 – 5,000 frogs being stocked in each model.
VFM