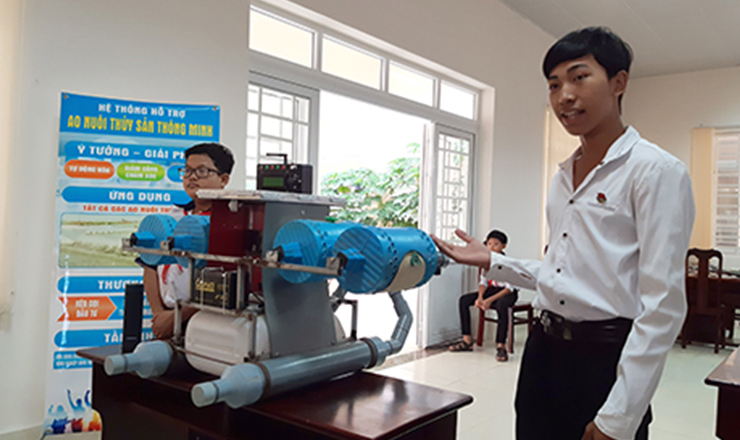 The"Smart system for fish ponds" by Châu Thế Khanh and Lý Minh Mẫn, students of Võ Thị Sáu Secondary School in Châu Thành A district is unique for its multifunction. The product helped them win the second prize in the sixth Contest of creation among teenagers and children in Hậu Giang province in 2019.
The two teenagers made a boat of plastic pipe which is equipped with smart system to work as an auto feeder, medicine sprayer, surveillance camera and water monitor. "A farmer must take a lot of time and power to fulfill all these tasks and may put their health at risks when directly spraying medicine. My product can help them cover all these tasks", said Châu Thế Khanh.
The system consists of two Arduino nano circuits, bucking circuit, 4 DC motors, relay, 1 sim 800A, 1 solar flat plate collector, 1 battery, led, pump min 12v, 1 medicine spraying valve, and PVC pipe. Châu Thế Khanh introduced the feeder was remote controlled by RF wire in combination with DC speed reducing motors and the medicine sprayer was remote controlled by RF wire in combination with DC compressor. There is a led to seduce insects that can be used as feed for farmed species, a sensor connected with mobile phone to monitor object movement to generate anti-theft, a water environment survey system to monitor temperature, moisture, and pH. If these parameters change unfavorably, an alert text will be sent to the owner's phone. The boat is made of basic materials with low price and can be used for 5 years. A boat may cost 1,550,000 dong and used for a pond over 1,000m2.
Nguyễn Minh Tường, teacher of Võ Thị Sáu Secodary school and supervisor of Khanh and Mẫn said: "The feeder is available in the market but expensive and unfavorable as it must be fixed at one position. Remote sprayer and insect seducing led, and anti-theft device are not available. Thus, a multifunctional system to help farmers with seafood production is necessary".
The product was tested by Mr Tường, Khanh and Mẫn in growing ponds with good results. It can handle 20 kilogram of pellet feed in the 100m2 pond, 60kg in 300m2 pond in 20 minutes and 40 minutes respectively. The medicine sprayer operates similarly with 60 litters in 120 minutes. Anti-theft alert and pH monitor work well. The product help farmers save 10 minutes fulfilling all those tasks. Moreover, it enables farmers to reduce risks from directly working with medicine.
Teacher Nguyễn Minh Tường said "Although the experiment in growing ponds was successful, we will study to integrate further environment surveying sensor to control the oxygen and turbidity of water to enhance the efficiency of the product. Besides we will install circuit ESP8266 to upgrade to IoT system using wifi. We intend to install further control circuits on water pump and bubbler to improve its automated system when water changes unfavorably to farmed species.
VFM