Aquaculture
Viet Uc Seafood Corporation produces high quality pangasius fries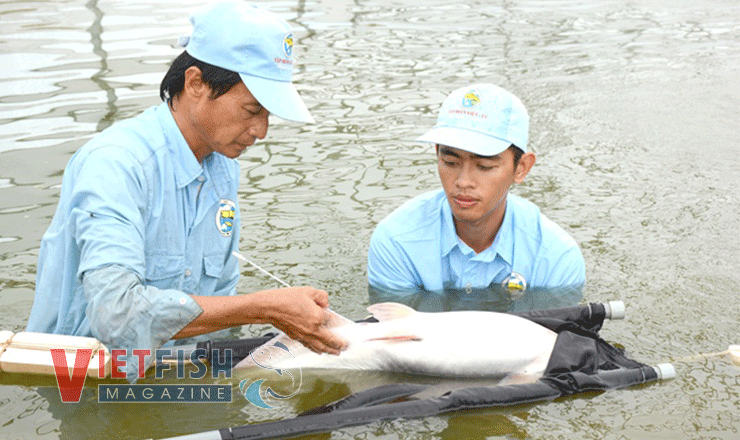 Upon a collection of successes in applying new technology into shrimp industry, Viet Uc Seafood Corporation has built a facility to produce high quality pangasius fries in Vĩnh Hòa islet of Vĩnh Bường hamlet, Vĩnh Hòa commune, Tân Châu town, An Giang province and prepared to introduce the first high quality pangasius seeds to the market.
The 100ha high quality facility in Vĩnh Hòa islet is located separately from residence to assure biological safety during production, with good source of water from spring head of Tiền river. Moreover, the soil seems suit the facility very well as it is close to breeding area of natural pangasius.
The facility has 18 houses where pangasius broodstocks are preserved for selection and production and plans to provide the market with very first high quality fish fries by the end of the year. Even though national power network has not been activated, the Corporation invested solar electricity for the facility to operate.
CEO of Viet Uc – An Giang Pangasius JSC said there are 1,000 pangasius broodstocks type G1 in the facility which have been sent to Commonwealth Scientific and Industrial Research Organization (CSIRO of Australia) for testing and selection of poor qualified fish. From these 1,000 broodstocks around two billion fingerlings will be produced G1 and 200 million fish fries (sized 30pcs/kg) per year. High quality pangasius fries will be sold in the market to serve commercial farming.
According to Khôi, the facility aims to bring about three traits. The first one is quick growth at least 10%. CSIRO estimates the next broodstocks weigh up faster than the previous from 8-10%. The second one is to increase average survival rate of the next generation by 5-10% as compared to the previous one. Especially, the fish can adapt local natural conditions and fight against diseases. The third one is fish quality must be improved with increase in fillet rate. Particularly, quality of fish is evaluated upon two factors: improving fillet from 2.8kg to 2kg to get 1kg of fillet (generations rise from 15-20%) and improving white meat rate.Explaining more about growth trait, Khôi said that genetic factor decides more than 52% while 48% depends on farming techniques. Color of meat is defined by 20% of genetic factor and 80% of farming techniques, feed and water source.
Viet Uc Seafood Corporation is the unique company involved in broodstock selection programwith remarkable genetic technologythat helps select fish with dominant genes to decide broodstocks of the next generation.
Besides, project "Cooperation to produce three-grade high quality pangasius in Mekong Delta" is one of advantages that pangasius industry gets. Viet Uc is the main participant to study and select pangasius broodstocks that are improved in their trait of growth and adaptation to local conditions.
The team of more than 10 professors from CSIRO and 40 specialists from Viet Uc has studied and selected broodstocks forG1 generation with dominant trait. They are completely SPF and weigh up fast.
The well-developed pangasius selection program by Viet Uc is the key to provide markets with high quality fries.
VFM