Fisheries
Quảng Ngãi: The HDPE cage farming model for cobia brings in positive results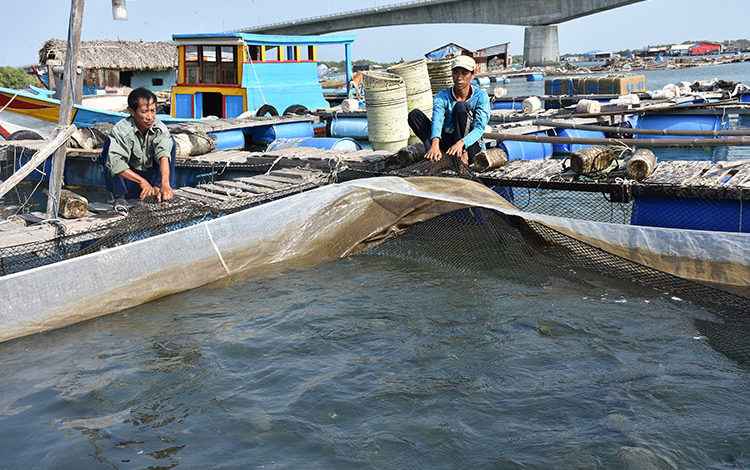 The Quảng Ngãi Provincial Agricultural Promotion Center has implemented a commercial cobia farming model in HDPE cages as a part of the "Establishing a commercial cobia farming model in the Central coastal region" project in Lý Sơn district for 3 years, from 2022 to 2024.
In 2022, the model was initially implemented by farmer Võ Xuân Tốt in Đông An Hải hamlet, Lý Sơn district, with a cage of 125 m³, stocking 1,000 fingerlings, 15 to 18 cm each, at a stocking density of 8 head/m³. After 9 months, he harvested over 3.5 tons of cobia, with an average weight exceeding 5 kg each. The average selling price was above 190,000 VND/kg. After deducting expenses, he earned nearly 200 million dong profit.
Tốt said: "This model has resolved many issues faced by farmers related to marine aquaculture, such as survival rates and resistance to wind and storms. In September 2022, during Typhoon #4, which had gusty winds of level 7-8 passing through the region, the HDPE cages faced no problems. Based on my experience, these cages can withstand even a typhoon of level 12. After this, I will continue to invest in more HDPE cage systems. I am going to change entirely traditional sea farming into HDPE cage farming."
In 2023, the Provincial Agricultural Promotion Center continued to invest into another two cages, which would be installed in the farming areas owned by farmer Nguyễn Lợi and Trương Đình Phú in Tây An Hải hamlet, Lý Sơn district, with a total volume of 250 m³. In April 2023, 2,000 cobia fingerlings were stocked, 15-18 cm long each. After nearly 5 months of farming, cobia in those farms have shown good growth and development, with an average weight of 1.5 – 1.7 kg per fish and a survival rate of 90%, while the traditional cage farming just presents 70-75%. It is expected that, after 9 months of farming (by the end of 2023), the fish will be harvested at a weight of 5 kg each, with a survival rate of approximately 85% – 90%.
Võ Trí Thời, Deputy Head of the Economic and Rural Infrastructure Department in Lý Sơn district, stated, "Currently, there are around 1,612 cages operated by more than 54 households engaged in marine aquaculture. In the near future, the district will encourage local farmers to replicate the HDPE cage fish farming model."
VFM