Fisheries
Tighter control of feed and breeding stock sources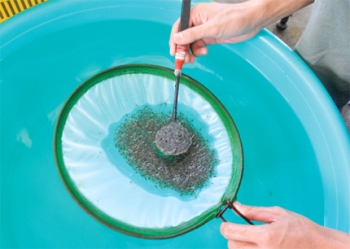 During the seminar of developing feed and breeding stocks for marine aquaculture held by the Department of Fisheries in association with Khánh Hòa provincial Department of Agriculture and Rural Development, some participants agreed to tightly control the production of feed and breeding stocks for sustainable marine aquaculture.
Khánh Hòa is one of Vietnam's leading provinces in marine aquaculture. The province has nearly 65,000 lobster cages, producing more than 1,300 tons of lobsters on average. Besides, marine fishes such as sea bass, grouper, cobia, snubnose pompano are widely reared in 9,800 cages on bays, producing about 8,000 tons per year. Other species such as mud crab, oyster, geo-duck, and algae are produced.
Lê Văn Hoan, Deputy Director of the Department of Agriculture and Rural Development said that a vast majority of conventional cages were installed with fresh feed being used. Breeding stocks of some key species, especially lobsters, have not been self-sufficient. Environmental pollution and disease outbreaks are still problems.
In the first half of the year, 221 breed production facilities in Khánh Hòa have supplied more than 2.1 billion post larvae of all species such as black tiger shrimps, white leg shrimps, sweet snail, marine fish, geo-duck, crab, and sea cucumber. However, those facilities are not entirely self-sufficient in some breeding stocks such as lobster, marine fish, and seaweed. Fresh feed is mostly used, such as low commercial value fishes, small mollusks, and bivalve. Some businesses and facilities which invest into HDPE cages use industrial feed.
In the direction of development of feed for aquaculture, the province expects research facilities to give a process of producing industrial feed for some key and highly economic species. The province hopes to call for investments into industrial feed production for marine aquaculture; encourage marine aquaculture facilities to use 100% industrial feed, reduce and gradually stop using live feed.
Trần Đình Luân, Director of the Department of Fisheries, said that the province must strictly control feed and breed production facilities to serve marine aquaculture. The demand for feed and breeding stocks is huge, thus, the connection between farmers and suppliers is a must. This will help prevent the dumping and maintain a steady market. The Department will review the production of broodstocks, nursery of breeding stocks, establish supply chains to provide qualified feed and breeding stocks for marine aquaculture, as well as strictly control the quality of feed and breeding stocks.
VFM