Fisheries
Ultimate Goal: A Modern and Sustainable Shrimp Industry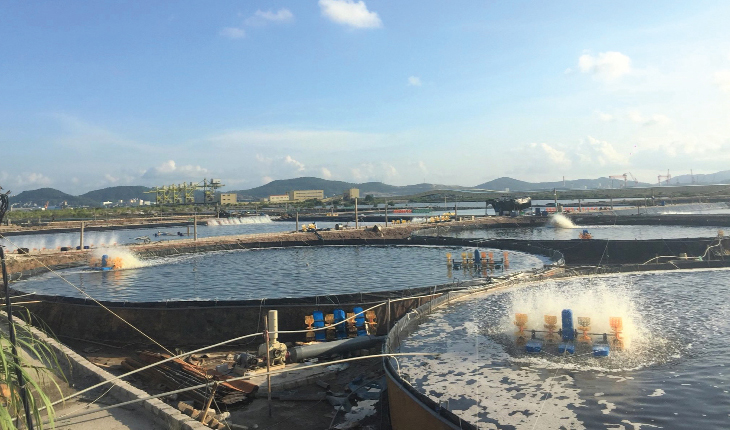 Reaching the full potential of the Shrimp is the most urgent mission for Vietnam's Fishery Industry nowadays. At the first seminar of VietShrimp 2021, many ideas have been given and from these ideas, Shrimp Farming Solution has got a lot of attention.
Facing The Challenge
According to Mr.Nguyen Ngoc Thang, President of Vietnam Fishery Association: Nowadays, Shrimp has reached a new height, not only expanding in the aquaculture area but also getting investment to become the focusing field of development in all the Agriculture Industry and Vietnam Economy. The Shrimp Industry is being encouraged to bring modern technology in order to enhance both the quantity and quality of the product. It focuses on guaranteeing the effective and stable development goal of the Industry; at the same time improving the quality of life of the farmer and boost exporting. However, there are some challenges such as climate change, environmental, diseases. National integration also brings both advantages and challenges, especially demand for quality and ATTP is becoming higher.
The Shrimp Industry also faces unstable development progress due to limited production efficiency which leads to low income for the farmers; distribution profit and responsibility in the Shrimp Value Chain also have problems. Not only that, the production cost in my country still higher than many countries in the world lead to increasing competitive pressure in the international market. For this reason, all the related parties must join to find the solution to reduce the production cost. Strengthen connection, select suitable farming model along with control seed quality, food, water quality and put waste, pathogens, harmful factors, … under control are some solutions.
Mekong Delta Area is the key area for shrimp farming with 91,2% of brackish water shrimp farming area and 80,9% of shrimp farming output of all Vietnam. But according to Mr.Tran Dinh Luan, Director General of  General Department of Fisheries, shrimp farming in this area in particular and other areas in general still have some difficulty such as drought, salinization, the difference in temperature between day and night. Not only that, but Vietnam shrimp farmers also face the breed problem since Vietnam still not able to control the source of the breed. Industrial Shrimp Farming currently confront by the discharge to the environment. This is an alarming situation with a huge impact on the stable development of the Vietnam Shrimp Industry.
According to Mr.Le Van Quang, President of Minh Phu Fishery Cooperation, before 2020, although shrimp farming production cost of Vietnam higher than other countries 30% but still able to compete in exporting due to shrimp processing technology of Vietnam enterprise are more advance compare with other countries. But, nowadays, India, Ecuador, Indonesia are updating their technology and they may catch up with Vietnam Industry in 3-5 years, make our advantage disappear. If we do not have improvement, new approach then the Vietnam Shrimp Industry will have to face a lot of difficulties.
Finding Solution
On the way to bring our merchandise to the world, we haven't prepared in accessing the origins, strict standards of many difficult markets. Because of that, the brand value of Vietnam Shrimp is not high. With these situations, Vietnam Shrimp Industry needs to change the way of thinking, change the plan, and long-term strategy in order to bring shrimp industry value to 10 billion USD in 2025 as a direction from the Prime Minister. The most important factor to achieve this goal is to close the chain value of the shrimp industry, actively control all the segments to maintain stable development. Along with it, synchronous coordination between three-factor: Government, Farmers, and Enterprise will be an important base to increase the value of Vietnam Shrimp.
According to Mr.Tran Dinh Luan, Resolution 12 of Government on sustainable development of Mekong Delta adapt with climate change, the center is the shift in fisheries. From these years, many effective shrimp production models have appeared; many companies, enterprises join the chain value and produce many optimistic results. With many orientations, strategies to develop the fisheries industry, we hope to exploit the full potential of brackish water shrimp to increase the export turnover to 5-6 billion USD instead of only 3-4 billion USD in the future. Along with it, localities must develop different chain link models to reduce intermediate steps and reduce production costs. Increase inspection, control infrastructure standards, food, environmental treatment products NTTS, strictly punish the acts of profiteering, price pressure, and false information. Association and businesses need to join and develop co-operate model, connect along the value chain to reduce the price, get access to the new market and achieve sustainable development.
>> Doctor Tran Dinh Luan, Director General of  General Department of Fisheries: "If we want a sustainable development shrimp industry then we need to be proactive about the breed, control the input materials, environment, harvest and protect the environment in shrimp industry".