Fisheries
Very few fish left in the fishing ground, fishermen suffer from serious losses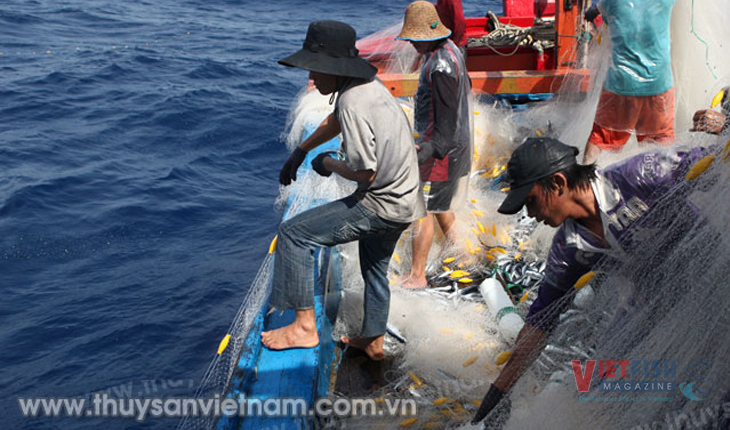 It's the tuna season but very few tuna have been caught in the fishing ground. Meanwhile the cost for a trip to the ocean has increased, fishermen are suffering from losses.
Offshore fishing vessels are coming back to the Hòn Rớ fishing port in Phước Đồng commune of Nha Trang city in the run up to the year-end after more than 20 days working in the tuna fishing grounds such as Spratly Islands and Dk1 rig. However the output is much lower than previous years, some vessels caught some tens of kilograms of tuna, leaving a great loss.
Fishermen Lê Văn Dũng in Xương Huân ward of Nha Trang city said that his family had six tuna fishing vessels. Three of them have just arrived, bringing 1.8-2 tons of tuna, and two of them caught 1.2-1.4 tons. The one owned by Dũng caught only 300 kilograms. The production cost for the trip has increased since the Covid-19 pandemic, especially the petrol price rose up to more than 19 thousand dong per liter, leaving the loss of 100-120 million dong suffered by fishermen while it had been 70-80 million dong once. Dũng, therefore, is suffering from a serious loss from his trip.
"There was a large amount of tuna in the fishing ground at this time of previous years. My vessel could catch 40-50 tuna (equal to 2.5-3 tons), even 70-80 tuna then. However, the recent two trips made me realize that there were just a few tuna in the fishing ground. My friends caught 10-20 tuna at maximum, some caught 30-40 tuna or more", shared Dũng. 
Vessels catching striped tuna have just landed at the port with an average output of 9-12 tons per trip, 2-3 tons higher than previous trips as it was the middle of the season. However, due to a sharp increase in the cost for a 20-day-trip, around 250-270 million dong/trip, and poor preservation, vessel owners earned very little profit. Now, tuna is sold at 20-50 thousand dong/kg (up to types).
Fishing vessels have stayed idle for three months due to the pandemic and just come back to the ocean for two months. The tuna catching season lasts from October (lunar calendar) of the previous year till March (lunar calendar) of the next year. Mr Nguyễn Văn Ba, Deputy Head of the Hòn Rớ fishing port management board said that it was the main season of tuna catching, thus, fishing vessels arrived with an output of 9-12 tons, while it had been 5-7 tons before. Low output and poor preservation have brought the selling prices down, fishermen, therefore, did not earn much profit as compared to previous months. 
VFM