Markets
An Giang: Pangasius sector thrives back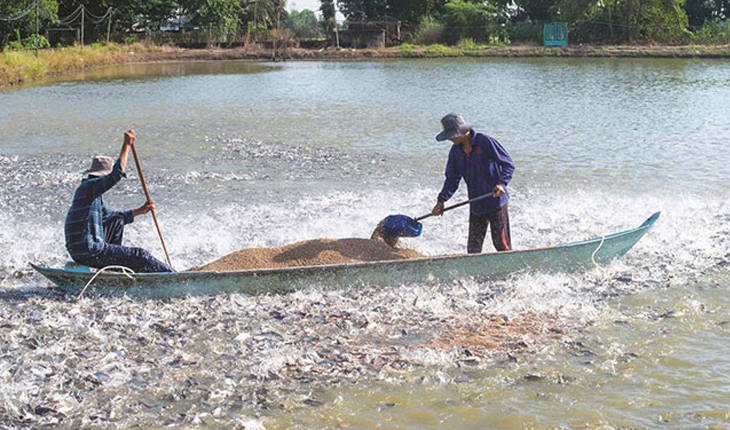 Once 18,500 dong/kg in early October 2020, the price of pangasius is rising to 23,500 dong/kg now. With such a price, local farmers suffer from loss no more, hitech farms bring benefits, and the pangasius sector thrives back.
Farmer Trần Văn Tuấn, in Vĩnh Thạnh Trung, Châu Phú, An Giang) is so eager for prices of pangasius material rising back. He has more than 700 tons of harvest size pangasius for exports and 300 tons of them were sold at 23,000 dong and the rest 400 tons are kept in ponds while he waits for prices to rise.
 "There has not been any sector in the Mekong Delta that has a lot of advantages like the pangasius sector, because one hecrate of farm-raised pangasius can bring in 7.5-9 billion dong/crop (up to the stocking density), which is much higher than what a rice field can produce. Farm-raised pangasius in the Mekong Delta has become a favorite food to 138 nations and territories worldwide. If we can manage it well, our country may bring in a benefit beyond $2.2 billion every year", said Cao Lương Tri, a farmer in Long Xuyên city.
Today, the top four destinations of Vietnamese pangasius, the US, China, the EU and Asia, are increasing their purchases, giving a forecast of remarkable results of this sector in the last two months of the year.
"The Nam Viet Group exports 300-350 containers of pangasius to countries worldwide. Beside exports, we are producing value-added products upon the EU standards to serve consumers in the northern provinces", said General Director of Nam Viet Group Doãn Tới.
For the stability and sustainable development of the sector, the Ministry of Agriculture and Rural Development has issued a lot of deliberate policies to recover the pangasius sector. In particular, the Ministry is focusing on investing into the SPF and healthy broodstock program. Likewise, provinces are encouraged to stop expanding the cultivation area and boost the restructuring of the sector for quality, safety, and traceability assurance.
The Deputy Chairman of An Giang People's Committee Trần Anh Thư said that the provinces is rearrange the pangasius areas in four hotbeds, including shifting 500 ha of ineffective pangasius farming areas to rear other species, and investing into a high quality pangasius farming area (200ha) in Vĩnh Hoà of Tân Châu town.
VFM