Markets
Difficulties in exports, prices of lobster fall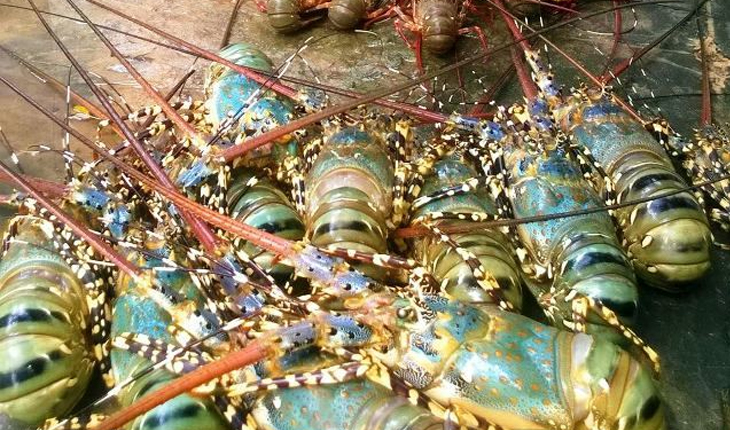 Lobster farmers in Khánh Hòa are worrying about difficulties in sales and falling prices.
Low prices, sales difficulties
Green spiny lobster farmers have desperately been worried about falling prices of commercial lobsters in Cam Bình commune of Cam Ranh city, Khánh Hòa province.
Chairman of the Farmer Society of Cam Bình commune Lâm Tuấn Anh said that the commune has over 20,000 cages of lobster. Green spiny lobsters were sold at 920-970 thousand vnd/kg before Tet, but it fell to 820-850 thousand vnd/kg after the holiday, resulting in just a few profit. However, prices of lobsters have fallen unexpectedly for the last few months, ranging between 620 to 670 thousand vnd/kg (up to sizes), even just a few traders came to buy or buy a small quantity. This will make local farmers suffer from serious loss because the mortality rate is quite big at this moment of the lobsters' life cycle and prices of broodstocks and feed reach high. Feed prices ranged between 25 and 30 thousand vnd/kg once, they have risen to 60-65 thousand vnd/kg. "Those who can not afford the farming any longer have to sell lobsters and suffer from losses or luckily break even in case of low mortality rate. Some of them are struggling to wait for higher prices", said Tuấn.
Last June, farmer Lê Văn Hòa in Bình Ba Đông village of Cam Bình commune stocked 4,000 green spiny lobsters which have reached the harvest sizes (three count lobster averagely) but he hesitates to sell them.
 "Prices of baby lobsters reached 55-58 thousand vnd/head this crop, nearly twice as much as the previous ones. However, lobsters caught up with milky hemolymph disease, resulting in a high mortality rate. As many as 700 lobsters have been found dead in this crop. If prices stay at 670 thousand vnd/kg, we will surely suffer from loss", said Hòa.
Prices of green spiny lobster have been falling, and so have prices of tropical rock lobster. In Hiền's opinion, a tropical rock lobster farmer in Khải Lương village of Vạn Thạnh commune, Vạn Ninh district, tropical rock lobsters type 1 (at least 1 kg/head) are sold at 1.3 – 1.4 million vnd/kg, and tropical rock lobsters type 2 (0.72 – 1 kg/head) are sold from 900 thousand to 1 million vnd/kg. Before Tet holiday, the type 1 was sold at 2.1 million vnd/kg while the type 2 and type 3 were sold at 1.5 – 1.7 million vnd/kg.
 "Such low prices and high mortality rate, 20-30% even 50%, will result in great loss if lobsters are harvested for sales", said Hiền. He added that the the mortality rate was driven by the milky hemolymph disease. He stocked 2,000 tropical rock lobsters which have reached size 2 and size 3. But 7-10 lobsters, even up to 20, are found dead every day. Moreover, because of low prices and few traders, his family is seriously suffering.
Lobster farming must follow the planning
According to the Khánh Hòa provincial Sub-department of Fisheries, the province has over 60,000 cages of green spiny lobsters and tropical rock lobsters, producing around 1,300 tons per year.
Deputy General Director of the Khánh Hòa provincial Sub-department of Fisheries Võ Khắc Én said that most of the lobsters have been exported to China and some are served to tourists. However, since China applied the "Zero Covid-19" policy, Vietnam has found it difficult to export agricultural products and seafood, lobsters included, to this country. Prices, therefore, have fallen sharply due to poor sales. Meanwhile, as domestic tourism has not fully recovered, lobster consumption is still poor.
In the face of the overwhelming pandemic, unexpected market, poor consumption of commercial lobsters, and fluctuating prices, the Sub-department suggests that farmers should follow up market information so as to stock a proper quantity of baby lobsters, follow the planning, and carry out registration to competent authorities.
This will also facilitate traceability and assure the quality to export lobsters through direct border gates so that sales of this species will be stable. Local competent authorities will continue to support local farmers to look for buyers.
In Én's opinion, exportation through official quota export channels is essential for the sustainable exports of lobsters in the long run. Thus, besides stocking as planned and fully registering to competent authorities, local farmers must pay attention to meet demanding standards of quality and traceability from importing markets.
VFM