Markets
Domestic pangasius price trends in March 2020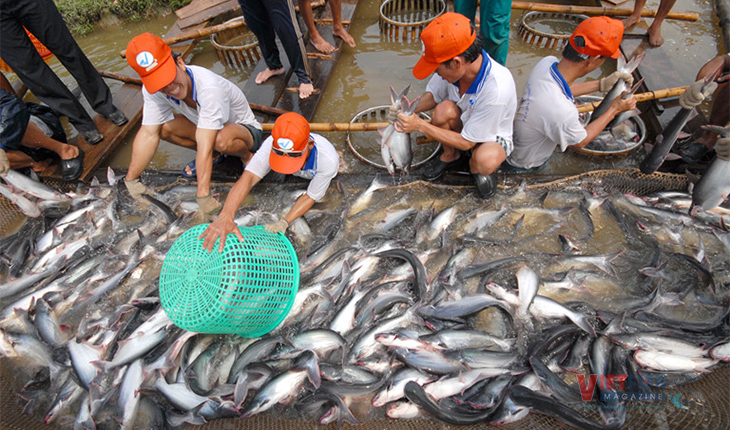 Prices of pangasius in the Mekong Delta is a downward chart with the highest point in February Feb. 2019 at 34,000 – 34,5000 dong/kg, which then went down and came to the lowest point in Nov. 2019 with 19,000-19,500 dong/kg.
The price increased slightly extra 1,000 dong/kg by 20,000-20,500 dong/kg. The price of pangasius material decreased by 44% from last year; however, it ranged at 19,500 dong/kg in mid Feb. 2020 in the Mekong Delta, even 19,500 dong/kg in some places, down 42.6% as compared to the same period last year. The price of exported frozen pangasius fillet depended on the fluctuation of pangasius material prices, with the highest recorded in Feb. and Mar. 2019 at 2.95-2.98 USD/kg, which then fell down in quarter IV of 2019 to 2.2 USD/kg.
The Ministry of Agriculture and Rural Development forecasts a good yield from pangasius harvest in Mar. 2020 because a large amount of fish weigh up over 1 kilogram. And yet, due to supply pressure in quarter I and II of 2020, it is expected to be a downward trend. In the Mekong Delta these days, many households and pangasius exporting companies have faced difficulties due to serious drop in price and stagnant business caused by the covid-19 pandemic. Factories in An Giang are buying pangasius material at 17,000-18,000 dong/kg. The province stocks pangasius in 1,226 hectares and harvests around 430,000 tons every year, according to the An Giang provincial Fisheries sub-department. Close to 930 hectares of pangasius has been stocked since early 2020.
Companies in Đồng Tháp and Vĩnh Long just buy good-looking pangasius at 18,500-19,000 dong/kg, meanwhile the production cost is not less than 22,000 dong/kg. Besides price drop and difficulties in consumption, many households in Bến Tre, Trà Vinh and Tiền Giang are encountering salinity intrusion which has caused bad impact on pangasius. Deputy General Director of Nam Việt JSC Nguyễn Duy Nhứt in An Giang said "As many as 30-40% decrease in output has been recorded in multiple companies related to pangasius export".
According to the Việt Nam Pangasius Society, the Mekong Delta has seen a 30-50% decrease in price of pangasius material and baby pangasius due to difficulties in the exporting market. Some pangasius exporting companies said that the pandemic is being well controlled in China, resulting in an expected huge demand in frozen pangasius products after a long time of stagnant business.  
VFM