Markets
Đồng Tháp: Eel farmers are worried about low prices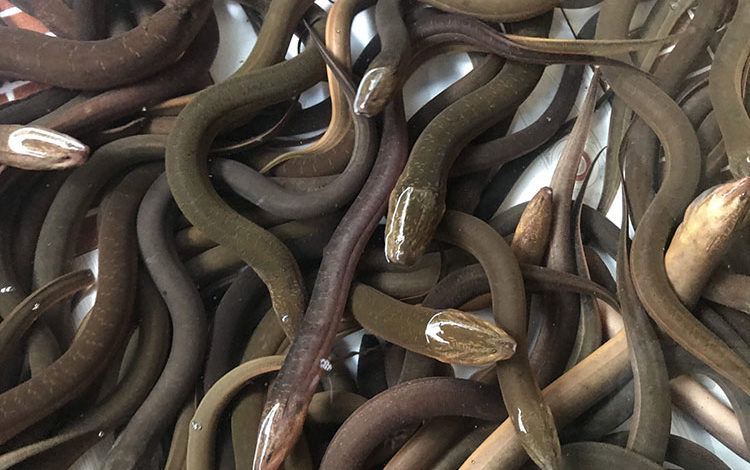 Not living outside the norm of supply and demand, eel farmers in Hồng Ngự district, the eel capital of Đồng Tháp province, are facing difficulties with the slump of commercial eel price. Such a prolonged slump made many farmers suffer from loss, even some had to empty their ponds due to lack of capital for restocking.
Even though it's the flood season with favorable conditions and abundant natural feed for eel, farmer Bùi Thị Liên in Nam Hang residence group of Thường Phước 2 commune, Hồng Ngự district stocked just 50% of the eel broodstocks as compared to the pre-pandemic period. And yet, she suffered from more than 30 million dong when the first commercial eels were sold. Two ponds with 1,500 eels can be harvested now, but she is waiting for a rising price; or else the more eels are sold, the more loss she has to suffer. Liên said: "Once 220,000 dong/kg, the price fell to 190,000 dong/kg, then 150,000 dong/kg and there was no sign of inching up. Eel was fed everyday, now every two days".
Thường Phước 2 commune of Hồng Ngự district has about 88 households related to commercial eel farming, mainly in Nam Hang residence group. According to the commune People's Committee, in the face of the slump of eel price, about 30 households decide to empty their ponds, because the revenue is lower than the production costs. It costs at least 100 thousand dong to invest into one kilogram of commercial eel.
Farmer Lê Văn Kê in Thường Phước 2 commune of Hồng Ngự district said: "Eel farming has been precarious since last year due to the low price. I managed to find natural feed to reduce the production cost. If such a low price continues, I will not be able to handle it because grown eels are easy to infect with diseases or feed insufficiency is a problem".
So as to help local farmers deal with the difficulty, localities in the district created favorable conditions for households to approach the capital from agricultural production supporting programs. Besides, technical officers also transfer science and techniques to apply in production so as to reduce the mortality of broodstocks and diseases as well as improve the quality of commercial eels.
VFM