Markets
Fears of ocean tuna price falling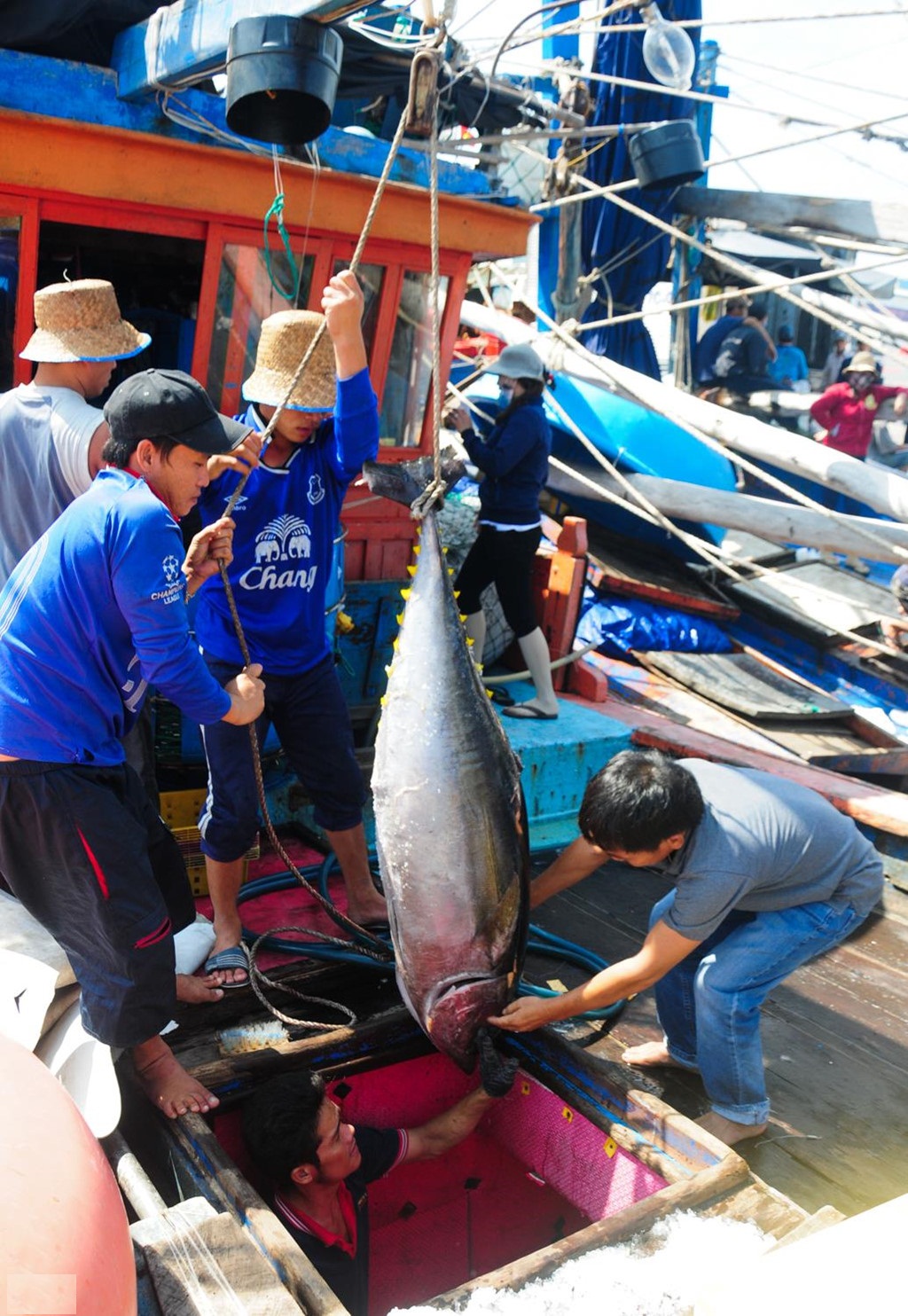 Phú Yên has taken in a bumper catch of ocean tuna since early this year, however, the price is not as expected, according to many provincial farmers. Price is low meanwhile investment cost is high.
Abundant output vs low interest
According to the Phú Yên fishing port Management board, hundreds of tuna fishing boats came back with an average of 1.7 tons of tuna caught each. But the price was too low. Farmer Huỳnh Thị Chi in Phú Đông ward said that not all of tuna in a boat was sold at 100,000 dong/kg, some low quality fish was sold at 30,000 dong/kg.
Mr Phan Thanh Lực, Head of the Đông Tác fishing port management board in Tuy Hoà city, said that as many as 110 offshore fishing boats (much of this went for ocean tuna) owned by Phú Yên farmers have docked at the port since after Tet alone. An average of 1.7 tons of ocean tuna was recorded in a boat. Tens of boats took in 2-3 tons and some even caught 3 tons. However, the price of this species stayed quite low. Once 130,000 dong/kg of tuna type 1, the price fell to 100,000 dong/kg. The drop was attributed to dishonest traders and companies who considered these tuna to fail the export quality requirements and just bought the fish for domestic consumption; only a few of tuna was exported.
Farmer Phan Ngọc Châu, owner of the boat PY96491TS in Phú Đông ward said the unfavorable weather resulted in most of the offshore fishing boats to postpone their trips further out to sea. Farmers were expecting to make a bumper catch with reasonable price and hoping the Government to continually introduce supporting policy on fishermen. Farmer Võ Văn Tiến, owner of the boat PY91036TS in Phú Đông said that in their experience, tuna appeared and moved from the north to the south at the beginning of the season when many kinds of big fish flocked into the ocean. Thus, if farmers set forth to the sea at the right time they would make a really bumper catch.
Enhance the fishing methods
Enhancing the quality of fish after being caught and lowering the rate of unqualified fish is considered an effective solution to reduce difficulties that farmers faced catching ocean tuna. The technology of preliminary treatment and fish preservation, thus, must be changed and a value chain of tuna exploitation must be established. That's what the Ministry of Agriculture and Rural Development has been doing when restructuring the fisheries industry.
According to the Phú Yên provincial department of Agriculture and Rural Development, the local authorities have developed multiple solutions to conservation and management of natural resources in combination with fisheries management plan and control of exploitation capacity to handle the behaviors in contravention of IUU regulations.
Vice Director of the Phú Yên provincial Department of Agriculture and Rural Development Nguyễn Tri Phương said that the province would continue to carry out policies to support fishermen and work out solutions to challenges. Phú Yên set goal of bringing in around 55,000 tons of wild-caught fish in 2020, with 4,500 tons of ocean tuna. The provincial government has just submitted to the Central no.17 a public investment project upon the Decree no.67 with total fund of 936 billion dong. Three projects have been implemented so far, which are the Storm shelter for Đông Tác fishing boats, Salt water broodstock Center, and Infrastructure of the Long Thạnh Aquaculture zone valued at more than 215.7 billion dong, 136.8 billion dong of which was financed by the Central.
VFM