Markets
Hà Tĩnh: Price of fresh shrimp skyrocket amidst short supply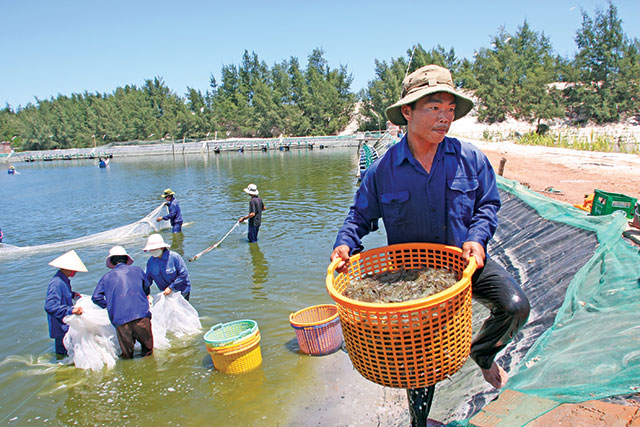 The price of commercial shrimp is skyrocketing after Tet holiday, even three times as much as before. And yet, shrimp are in short supply.
Trần Văn Minh in Xuân Hòa group of Lộc Hà town is the unique aquaculture household in Lộc Hà district selling big size shrimp (54 pcs/kg). He eagerly said: "I thought the demand after Tet would be high but shrimp would be in short supply as many local households failed. I decided to keep my shrimp and waited for rising prices. I have four ponds of 54 count shrimp (about 800kg) with a farm-gate price of 300 thousand dong/kg. This is the highest price over the last few years (twice as much as the starting point in May which lasts till September 2022, and 120 thousand dong/kg higher than the same period last year).
Farmer Phan Hưng in Tân Phong of Đỉnh Bàn commune, Thạch Hà district stocked semi-extensive shrimp in earthen ponds. But the stunted growth of shrimp led him to a decision of selling so that he could prepare for the upcoming summer-autumn crop and recuperate costs when the price of commercial shrimp shot up.
Even though shrimp weigh up to the size 100 count after more than 4 months of stocking, they are sold at 240,000 thousand dong/kg at the farmgate. He avoids loss although just one ton of shrimp are harvested from three ponds of two hectares (equal to ⅓ of the expected output).
White leg shrimp farmers in major areas of Hà Tĩnh such as Kỳ Hà (Kỳ Anh town); Cẩm Hưng (Cẩm Xuyên); Thạch Long, Thạch Sơn, Đỉnh Bàn (huyện Thạch Hà); Hộ Độ, thị trấn Lộc Hà, Mai Phụ (Lộc Hà); Cương Gián, Đan Trường, Xuân Thành (Nghi Xuân) failed in this winter crop. That was attributed to fierce weather, disease outbreaks, stunted growth, or massive death at an early age.
Most of the white leg shrimp farms in the province are emptied or rehabilitated now, meanwhile the actual farming area just accounts for about 10% (total 1,600 ha). However, shrimp are not big enough for harvest, thus this species is in short supply.
Huệ in Nghèn town of Can Lộc district, a wholesaler of fresh shrimp, said: "The price of fresh shrimps stays high at present, about 90-120 thousand dong/kg higher than the same period last year, and yet they are in short supply. We usually have 150-200 kg of fresh shrimp sold, but now just 20-30kg. As demand rises high during Mid-January (lunar calendar), the price will be much higher".
VFM