Markets
HCM City to boost ornamental fish exports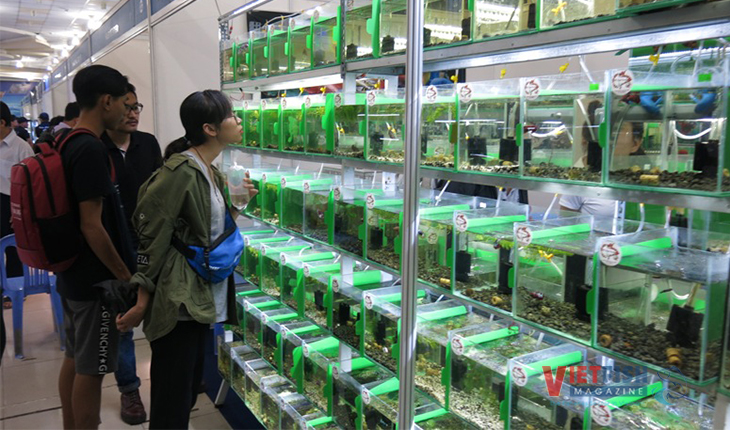 HCM City's ornamental fish breeding industry is seeking to expand its overseas markets.
It earned US$21 million from exports in the first 11 months of the year, a rise of 5 per cent year-on-year, according to the city Fisheries Sub-department.
The city, the country's largest producer of ornamental fish, has 89ha of ponds devoted to raising ornamental fish in outlying districts, mostly in districts 9, 12, Bình Chánh, and Củ Chi, with more than 290 households involved in the business.
They raise more than 60 species of fish. Of the figure, more than 40 are bred while the rest are wild caught. They export to 43 countries and territories, with the EU being the biggest market, buying slightly more than half of all exports.
To develop the industry, the city has undertaken many programmes, including setting up a model under which participating companies have to properly manage their business.
They have to comply with requirements related to controlling risks, preventing diseases, reducing the impacts of climatic conditions, and improving their fish-raising skills.
Thanks to this, breeders have been able to improve quality, thus raising the profile of the Vietnamese ornamental fish industry.
A key promotional event for them is the annual Ornamental Fish Festival in November. Companies raising ornamental fish promote their brands and introduce their breeding models here, Phạm Thiết Hòa, director of the city Investment and Trade Promotion Centre, said. Exports have risen sharply since 2015 when they were worth only $12 million.
However, exports remain far short of potential since fish breeding remains small-scale and scattered, which makes it difficult to fulfil large orders, Nguyễn Trọng Phú, owner of an ornamental fish farm in District 12, said.
To address the problem, a specialised area should be zoned off for raising various ornamental fishes, he suggested. A lack of research means there are no unique products in the market.
To expand the domestic market and increase exports, the city plans to upgrade breeding infrastructure and boost promotion of ornamental-fish brands. It also plans to set up a website to boost online transactions for businesses and help them with advertising.
The city is a major centre for breeding ornamental fish, accounting for 50 per cent of the country's total exports, according to its Centre for Agricultural Consultancy and Support. It breeds many species, both imported and local, and has many fish feed production plants.
VNS