Markets
Shrimp exports to Korea is forecasted to slightly increase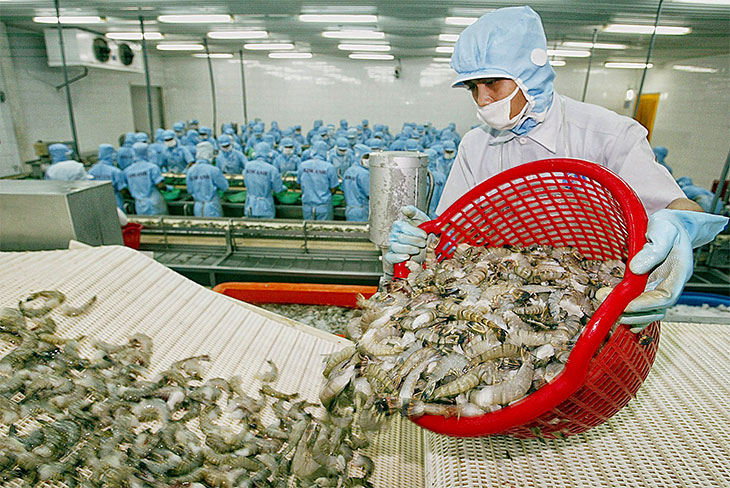 Korea is the fifth biggest importer of Vietnamese shrimp, accounting for 9.5% of Vietnam's total shrimp export value. After experiencing a slump in August due to social distancing rules applied for Covid-19 prevention, Vietnam has seen some signs of recovery in September and the first half of October this year. 
As of September 2021, Vietnam has not seen a sharp increase in sales of shrimp to Korea, but remained a positive growth from March to June. A slight decrease was recorded in July and August when local enterprises were forced to reduce production in an effort to prevent the Covid-19 pandemic outbreak. Sales of shrimps to this market slightly increased by 3.6%, valued at USD 30.8 million in September. In the first half of October, Vietnam saw a 26% increase in shrimp export value as compared to the same period last year. As of mid October this year, Vietnam's shrimp export value to Korea reached nearly USD 278 million, up 0.9% from last year.
This sign of recovery is a part of Vietnamese enterprises' plan in boosting sales to the Asian market so as to take advantage of the short distance and lower logistics costs than exports to the EU and the US. During the last months of the year, Korea is increasing their purchases to meet the local demand for Tet Holiday. 
As planned, positive growth will be recorded in sales of Vietnamese shrimp to Korea in the last quarter of the year. Vietnam will see a 3-5% year-on-year increase in shrimp exports to this market.
Korea imports mainly white leg shrimp from Vietnam with a density of 85%, versus giant tiger prawn of 4%. In the first nine months of the year, Korea increased their purchases of processed white leg shrimp (HS 16) and live/fresh/frozen giant tiger prawn (HS03) by 5% and 12% respectively. The biggest sales were recorded in live/fresh/frozen marine shrimp (HS03) with 41%. In the first nine months of the year, the average price of Vietnamese giant tiger prawn to Korean ranged between 11.7 and 14.6 USD per kilogram while the average price of white leg shrimp ranged between 7.9 and 8.3 USD per kilogram.
According to ITC's statistics, in the first eight months of this year, Vietnam remained as the leading provider of shrimps to Korea, accounting for more than 44% of the total shrimp going to this market. Korea imported a worth of USD 541.5 million of shrimp, up 16% from last year. Korea's main shrimp providers, Thailand, Canada, Ecuador, Argentina, China, and Malaysia, showed positive growth in the first eight months.
Strict social distancing rules and increase in fuel prices reduce the consumption demand in Korea in the third quarter of the year. However, when the Government of the Republic of Korea gave the plan of living safely with Covid-19 in November, increasing private consumption, and reducing taxes imposed on petrol, it was expected to boost the consumption in the country, resulting in a forecast of an increase in shrimp import from now till the end of the year.
VFM