Markets
Khánh Hòa: Grouper prices drop resulted in hundreds of backlog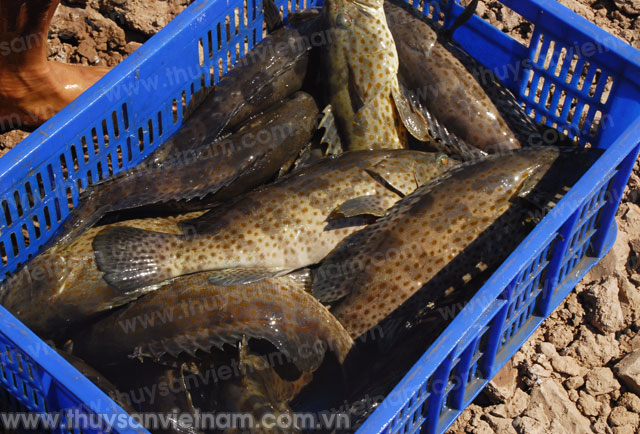 Difficulties in selling resulted in a big drop in grouper prices in Khánh Hòa. Prices, which ranged between 90,000 and 110,000 dong/kg, have made local farmers suffer from losses of tens of thousand dong per kilogram.
The COVID-19 pandemic has made a great impact on markets, resulting in hundreds of groupers in Cam Ranh of Khánh Hòa being unsold or traders buying at small quantities. Local farmers are suffering.
Difficulties in sales have made grouper prices sharply drop, just around 90,000-110,000 dong/kg, meanwhile it was as much as 220,000 dong/kg once during the peak season. With current prices, local farmers are suffering from losses of tens of thousands dong per kilogram.
In the farming area of Cam Thịnh Đông commune of Cam Ranh city, unsold pangasius are still reared in ponds, with the amount of feed being cut so as to decrease production costs while waiting for market recovery.
According to some professional traders, groupers are destined for exports and domestic consumption, especially restaurants. However, due to the COVID-19 pandemic, many restaurants have to close or some are opened with few customers, resulting in a weak consumption.
Lê Hữu Ngạn, Chairman of the Cam Thịnh Đông Farmer's Council said that the commune has around 150 ha of grouper ponds with 250 tons of fish reaching the harvest size but being unsold.
Besides, local lobster farmers are coping with difficulties due to decrease in prices. Green lobsters type I are now sold at just 450,000-500,000 dong/kg.
This is attributed to the fact that China, the main destination of Vietnam's lobsters, has tightened its control over imported products and the COVID-19 has hit the domestic market.
According to the Economic Office of Cam Ranh city, due to difficulties in sales, around 39,000 cages of commercial lobsters are kept, down 4,000 dong as compared to the peak season before.
VFM