Markets
Khánh Hòa: Price of lobster reach its peak in three years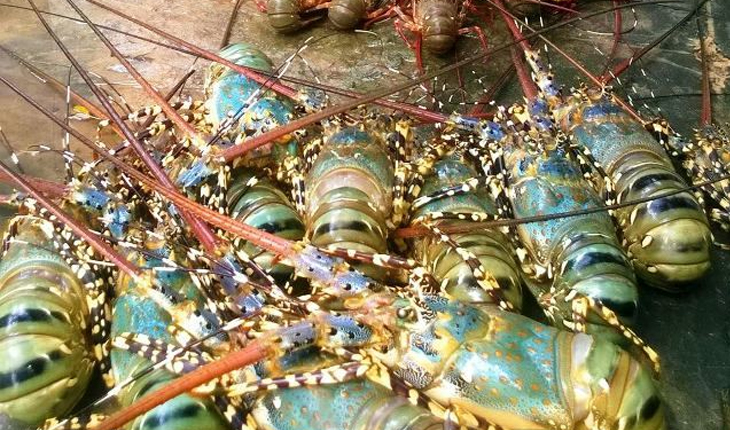 The farmgate price of tropical rock lobster is at around VND 1.8 million per kilogram while that of scalloped spiny lobster is VND 1.1 million, up 30% as compared to October and reaching the peak in three years.
Earning nearly one billion dong from 10 cages of lobster, farmer Hòa in Bình Ba (Khánh Hòa) said that after three years of disease outbreaks, that was the first time he had earned the most profit.
"My retained earnings is around 250 million dong, helping me compensate for the last crops of losses", shared Hòa.
Farmer Hùng in Khánh Hòa, who owns 22 lobster cages, said that tropical rock lobsters were sold at the farmgate price of VND 950,000 – 1.1 million per kilogram and scalloped spiny lobster were sold at VND 1.78 million per kilogram. Those were the highest prices in the last three years. Compared to October, they increased by 30%.
"Cages were harvested in a successive method, thus, I earned nearly VND 300 million profit after selling around one ton of lobsters. The rest are kept in cages for harvest in Tet Holiday", said Hùng.
The representative of the Farmers Society in Cam Bình commune (Cam Ranh) said that prices of lobster have increased continuously and would rise in the run up to Tet Holiday when lobsters are in high demand in the country and abroad. 
According to the Society's statistics, with such farmgate prices, lobster households (except for those suffering from flood) will earn at least VND 200 million and around VND two billion at the highest. 
Tropical rock lobsters are sold at VND two million per kilogram by retailers in Hồ Chí Minh city while scalloped spinned lobsters are sold at around VND 1.7 million and sandy-mud spiny lobsters are sold at VND 1.2 million.
The representative of Hoàng Gia Seafood Restaurants said that prices of lobster were skyrocketing. The price of scalloped spinned lobster was only one million dong and the price of tropical rock lobster was 1.7 million dong within the last three years.
In his opinion, besides objective reasons, such increase in prices was partly attributed to the fact that prices of lobster babies increased. 
Farmer Hùng in Cam Ranh said that the increase was mainly driven by recent floods and storms which caused devastating damages to lobster cages in Phú Yên and Khánh Hòa, leaving a slump in supply. The overwhelming disease outbreaks have prevented local farmers from buying lobster babies for the next crop, leaving just a few stockpiles. 
Furthermore, he said that when restaurants were open again, lobsters were in high demand and price was pushed up. And last but not least, an increase in lobster prices was driven by the fact that China increased their purchases in the run up to Tet Holiday 
Besides those reasons, Chairman of Cam Bình commune People's Committee Nguyễn Ân said that there were just a few numbers of lobsters in Cam Bình and localities qualified for exportation; thus, prices would be pushed up when demand surpasses supply. There are around 100 tons of lobster unharvested in Cam Bình until Tet Holiday. This is much lower than previous years. 
Nguyễn Ân said that the recent heavy rain caused a massive death of lobster due to freshwater shock in Cam Ranh. Besides, farmers in Phú Yên have suffered from a great loss after lobsters were dead in floods, making them completely lack capital to invest into the next crop. 
According to statistics of People's Committee in Sông Cầu town of Phú Yên province, as many as 8,443 lobsters in 42 cages were found dead within the two-day flood in October, leaving a damage of billions dong.
VFM