Markets
Lào Cai races to looking for markets for 250 tons of salmon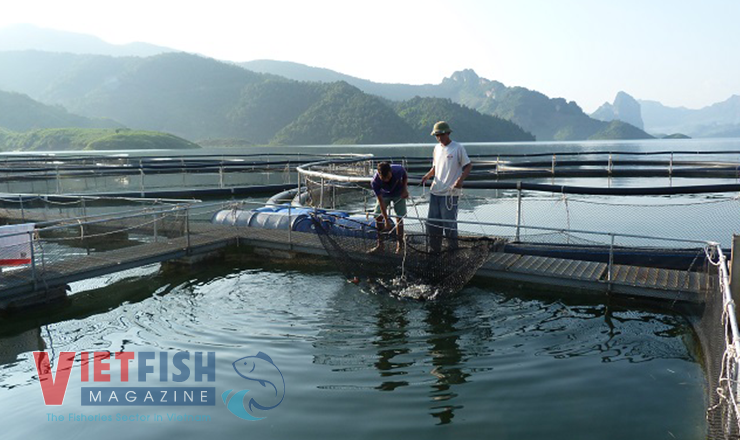 Lào Cai has 250 tons of salmon in the run-up to harvest but they have not been sold and the local authority is looking for sellers themselves.
Even though local salmon are raised for getting meat, they are all females that are supposed to die after spawning. Thus, the prolonged farming is impossible. Lào Cai is racing to look for buyers of these 250 tons of regional salmon.
The challenge resulted from the covid-19 pandemic which has halted tourism, entertainment and travelling activities, meanwhile those salmon had been intentionally stocked at the right time so that they would be harvested at the tourism season of spring-summer 2020. Travel restriction has suddenly "frozen" salmon consumption to big markets such as Sa Pa tourism destination, Lào Cai city and Hà Nội City.
Prices of salmon, mainly sizes 1.5-2.5kg, are ranging between 150,000 dong and 170,000 dong per kilogram, down around 40% from before.
Deputy Director of Lào Cai provincial department of Agriculture and Rural development Nguyễn Xuân Nhẫn said that the province had around 150 salmon farms, mainly in the mountainous areas in Sa Pa, Bát Xát, Văn Bàn districts and Lào Cai City. In the face of difficulties, most farms are struggling to continue their crop perfunctorily to save costs.
"The department has assigned the provincial Cold fish society and Safe agricultural food society to call for, connect, and look for deeply frozen storage units to take part in dealing with the situation. The department suggested that provincial authority submit to the Government a policy of supporting interest rate, rescheduling loans, exempting tax and giving preferential loans to those related to cold fish farming", said Nhẫn.
As Lào Cai borders China, salmon can be exported through the border gate. However, Director of the Lào Cai provincial Economic zone management board Nguyễn Ngọc Khải said that a large amount of agricultural products but salmon have been exported through the border gate. Seafood products including salmon must satisfy stringent standards of traceability and requirement of ministry-level licenses.
"The process of exports of Lào Cai's salmon, which are domestically consumed, must involve Vietnamese representatives connecting with Chinese counterparts to figure if China is in need of importing salmon. This will take time, meanwhile the consumption of local salmon is urgent", said Khải.
Despite a huge amount of unsold stock, salmon is rarely sold in civil markets because its price is still high compared to others, plus the transportation and storage requires much.
In the face of difficulties, many farmers are making salmon flake, dried salmon and smoked salmon. However, these products will expire after one month and costs after processing will rise. Some farmers are selling salmon online, and yet the consumed amount is quite low.
VFM