Markets
Mekong Delta: Solutions to maintain farmed shrimp production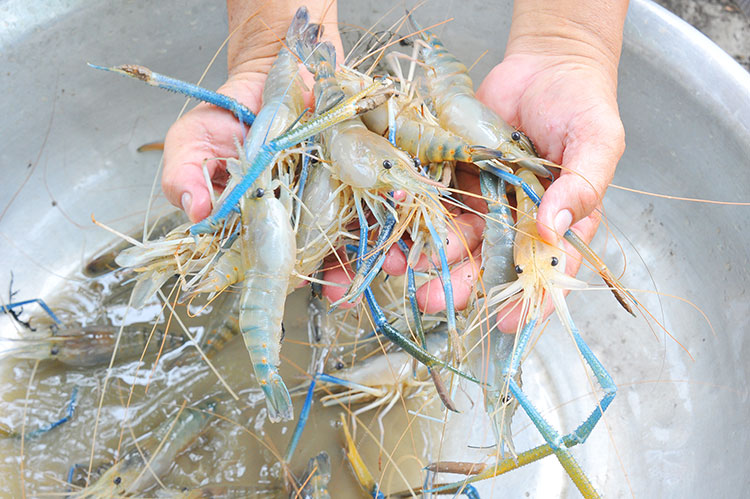 Shrimp farmers in the Mekong Delta are yielding many solutions, including holding-off feed and cull harvest in order to protect shrimp stock through this social-distancing period. 
According to records of Kiên Giang agricultural sector, until mid-August 2021, farmers in the province have had 128,200/136,000 ha fresh-water shrimp stocked. With 2,258 ha for agricultural intensive farming (mainly whiteleg shrimp), 27,822 ha for extensive and innovative extensive farming, shrimp and rice took over the largest area with more than 98,100 ha. The harvested yield from the beginning of the year was estimated at 73,000 tons. 
Currently, the residents still maintain the stability of shrimp production and caring. However, the stuck output and slow consumption of shrimp in harvest season due to a small number of merchants coming to trade are some of their difficulties. As a result, shrimp price, especially the price of giant river prawns, have plummeted.
According to the schedule regarding freshwater shrimp production enacted by the Department of Agriculture and Rural Development of Kiên Giang, August is the ending season of shrimp – rice farming, thus, farmers need to completely harvest in order to take advantage of rainwater to remove salt from the soil and prepare for the next rice season. Moreover, more than 98,000 ha for the provincial shrimp – rice farming model and nearly 26,700 ha for giant river prawn are struggling farmers with both harvest and consumption.
Harvesting giant river prawn is to adopt square scooping and manual catch, meaning acquiring a lot of workers. But there is no crowd allowed owing to the social-distancing regulation namely Directive 16. Furthermore, after harvesting giant river prawn, farmers have to run oxygen into the tanks and sell them fresh, so it is difficult to transport for consumption.
Currently, it is not easy to sell harvested shrimp because of low prices, hence, most farmers choose to lengthen the farming time and just harvest slightly when the shrimp population is dense. Mr. Nguyễn Văn Thể, based in Đông Hòa Commune, An Biên District, Kiên Giang, have 3 ha for shrimp – rice. He keeps feeding shrimp day in day out to wait for the lockdown barrier to lift. Mr. Thể said that after stocking black tiger shrimp in the very first beginning of the season, he had the whiteleg shrimp stocked. At the moment, they have reached 60 – 70 shrimps/kg and it is high time for them to harvest to prepare for rice season. Nonetheless, since shrimp are being underpriced, he just slightly caught some of the stocked shrimp to avoid disease infected in a densely-populated habitat and maintained feeding to avoid energy loss. He hopes that the shrimp price will stabilize once after this lockdown.
Mr. Nguyễn Ngọc Toản, Head of the Department of Fishery Extension, National Agriculture and Fishery Extension Center, noted that due to low farmed shrimp prices and hard consumption, farmers are advised to keep taking care of shrimp and lengthening the farming time to wait for more stable market demand. In addition, as monsoons happened, shrimp adapted to the decreasing salinity, thus, farmers still kept farmed shrimp and simultaneously removed salt from the soil so as to wait for the next rice-farming season.
As forecasted by Mr. Toản, shrimp demand would rise because of the supply shortage and low production in many countries resulting from the detrimental impacts of the COVID-19. Accordingly, Kiên Giang agricultural sector advised people to maintain, enhance shrimp farming, especially under industrial farming following 2 – 3 stage form, and apply cutting-edge technologies to improve farmed shrimp production. The province is making efforts to reach 105.000 tons for the farmed shrimp production in 2021, up 7,000 tons compared to the assigned plans.
In Cần Thơ and Đồng Tháp, many households farming giant river prawns are stretching their farming time as shrimp price drops to 160,000 – 170,000 VND/kg due to the COVID-19 impacts. On the contrary, the price of input materials, especially shrimp feed, all increases. And if this continues, farmers will earn no profit but loss.
To mitigate shrimp feed expenses, several households have taken advantage of available food, including cassava, sweet potato, dried coconut rice, corn, etc. in this holding-off period. Mr. Lê Văn Phiêm, based in Thạnh Mỹ Commune, Vĩnh Thạnh District, Cần Thơ has 1 ha of male giant river prawns which is about to cull harvest for sale. However, due to the COVID-19, traders did not come to purchase. Therefore, he resolved the situation by saving 30 – 50% of industrial shrimp feed combined with weaning feed of some available vegetables which are grown around shrimp ponds.
Mr. Phiêm shared that after about 6 months of farming shrimp, farmers sorted out the big shrimp for cull harvest in order to sell until the end of the 10-month farming season. Not only this way would help farmers earn a stable income and sell shrimp at high prices, but it would also effectively take advantage of the feed sources in the farming areas, limiting the competition between big and small shrimp.
As claimed by many households applying the model of farming male giant river prawns in Thạnh Mỹ Commune, farmers can harvest 1 – 1.2 tons of total shrimp production within a 1-ha farming area. In some previous years, each ha of giant river prawn farming could contribute 100 million VND/season to farmers' profits, all thanks to shrimp high prices at 220,000 – 240,000 VND/kg (20 shrimps/kg).
This year, giant river prawn prices decreased to 160,000 VND/kg (20 prawns/kg) owing to the COVID-19 pandemic. Some households noted that farmers following this shrimp cull harvest have little profit with each kg, thus, they wish for better control of the pandemic so as to sell shrimp at a higher price in the near future.
VFM