Markets
More opportunities for exporting tilapia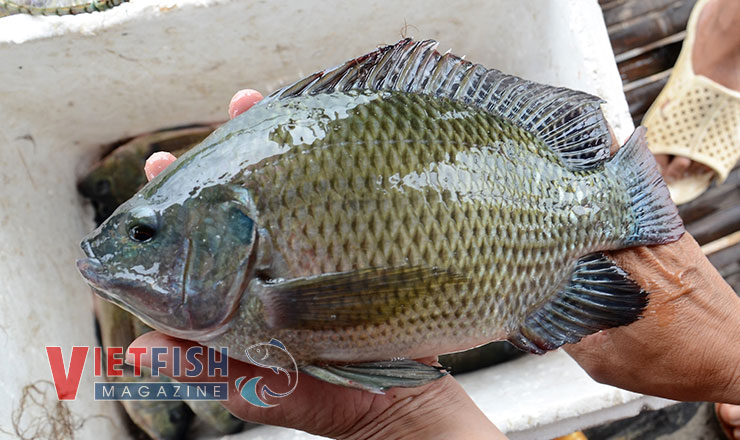 Being considered a major farm-raised species, but tilapia has not promoted its full potential and strength. There must be multiple solutions to turn this species into a big scale production sector and boost exports.
Proactive in fish fries
Most domestic livestock production centers are importing tilapia fingerling and 21-day old tilapia for nursery without broodstocks. So as to be proactive in tilapia fries sources, farmers need to buy qualified broodstocks from domestic supplies to build a back-up plan and provide livestock production centers with high quality and SPF tilapia fries for commercial cultivation. There are about 250 tilapia production facilities nationwide with some having retard tilapia, small-size commercial tilapia (GIFT skipjack tilapia). Meanwhile, fries imported from China and Taiwan grow fast and weigh up bigger than those nursed in Vietnam, resulting in the fact that despite being expensive, imported fries are more favourite. However, importing fries from China though border gates may have potential risks such as difficulties in controlling quality and disease outbreak.
Thus, it requires new investments, improvement and scale expansion of existing broodstock production facilities so as to be proactive quality tilapia fries, meeting demand of farmers in northern provinces in the run-up to crops. Besides, a research must be carried out to produce tilapia fries with high quality, fast growth speed, good resistance with normal diseases and high percentage of fillet meat for exports. A combination between quantitative genetics and molecular genetics may produce high quality tilapia broodstock in a short time, suiting the farming conditions of Vietnam. Centralized production farming areas must be set up near commercial cultivation facilities so as to reduce production cost in transporting.
Improve technology
Innovating in technologies of producing fries, feed, and preventing tilapia from diseases to improve survival rate and stocking density, shorten farming duration, eliminate feed cost, chemical substances and salaries, improve productivity, reduce environmental negative concerns and reduce production costs. Applying modern and environmentally friendly cultivation technology such as Biofloc and "river in lake" in freshwater farming areas. Cultivating with brackish water shrimp and applying rotation technology in brackish water ponds. Applying HDPE cage farming of Norway's technology in rivers and reservoirs. Setting up centralized farming areas and large-scale material areas, developing intensive tilapia cultivation in ponds, cage farming in rivers and reservoirs to create a massive output, same size tilapia to satisfy export requirements.
Applying technologies to reduce water replacement, using useful microorganisms to rehabilitate the environment, treating solid substances during and after each crop in order to reduce environmental negative concerns, manage diseases and assure biosafety. Encouraging tilapia production facilities where advanced and environmental friendly technologies are applied. Encouraging farmers to fully apply technical requirements in ponds, basin, wastewater treatment pond, farming cage (shape, size and location) so as to reduce negative environmental concerns and eliminate disease outbreaks.
At the same time, ramping up applying advanced technologies in the whole production process and well control quality of materials and broodstocks to reduce production costs, improve quality, and enhance competitiveness of products. Encouraging farmers to apply practices of VietGAP or equivalent schemes in centrally farming areas to be entitled to build a trademark and traceability program. Be proactive in controlling the environment and improving vital resistance to prevent possible diseases, assure food safety and hygiene, and satisfy requirements of importing markets.
Besides, exported tilapia must satisfy legal requirements of traceability, quarantine of microorganism and polluted substances, food safety schemes such as GMP, BRC and GlobalGAP. Encouraging and boosting the studies of building effective measures of preventing and treating diseases so as to disseminate to farming facilities.
Build our own trademark
Like other aquatic species, the taste of tilapia is different in various markets. Domestic consumers are interested in big-size fresh tilapia or iced whole fish while exporting markets prefer fillet products or frozen tilapia. Thus, it is necessary to learn of "different tastes" in various markets and consuming behaviours in importing countries so as to set up effective production plans in accordance to legal requirements in exports.
Besides, trademarks and labels of Vietnamese tilapia are needed, trade promotion activities such as exhibition, fair, dissemination and advertisement are necessary so that domestic customers and potential global markets are well aware of Vietnam's tilapia. Production plans must be adjusted to meet requirements of disease safety, environmental safety and food safety of importing countries.
VFM