Markets
Prices of shrimp material bounce back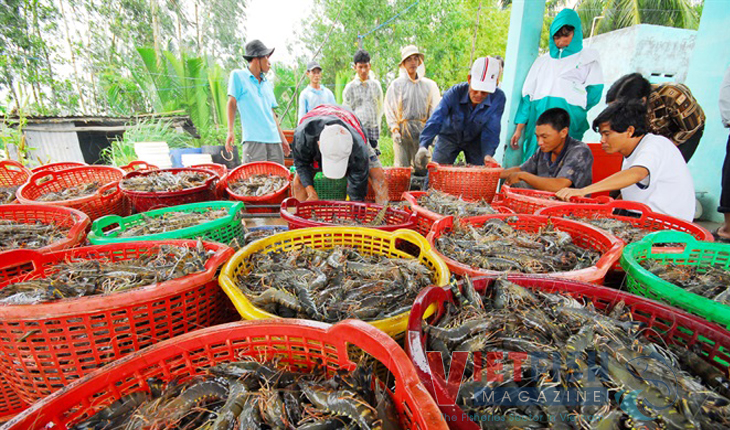 After a while of plunge, prices of shrimp material started to inch up late August and early September in souther province of Bạc Liêu, leaving a busy market.
According to local shrimp farmers, prices of white leg shrimp increased around 20,000 dong/kg compared to the previous months. In particular, white leg shrimps cultured in industrial farm, size 22-25 count shrimps, are sold at 160,000 dong, size 26-30 count shrimps are sold at 160,000 dong, size 26-30 count shrimps are sold at 146,000 dong, size 35-40 count shrimps are sold at 126,000 dong and size 55-60 count shrimps are sold at 100,000 dong.
Black tiger shrimps, size 20 count shrimps, are sold at 180-190 thousand dong, alive black tiger shrimps size 30 count shrimp are sold at more than 200 thousand dong. Alive black tiger shrimps are always attractive to domestic consumers in defiance of overwhelming COVID-19 pandemic.
Ngô Quang Hùng, shrimp farmer in Đông Hải district, Bạc Liêu province said that shrimps in his super-intensive farm reach the size of 30 pcs/kg and he estimates he can harvest around 14 tons of shrimp in this crop, earning as much as 50% of initial investment fund after production cost.
In his opinion, prices of shrimp material have skyrocketed in the last few days because Vietnam's shrimp exports have bounced back. Companies have new orders and gradually "release" unsold stocks, triggering the production, processing and new cultivation in the area.
According to companies, if the domestic consumption of countries bounces back and the exporting market is stable, prices of shrimp material will continue to rise in the next few months and shrimp farmers will retain their production nationwide.
With shrimp prices bouncing back, local shrimp farmers are planning to expand farming areas and invest into industrial and super-intensive models. However, farmers are facing difficulties in reinvestment, infrastructure and electricity for industrial cultivation. Besides, the water environment in the farming area, disease outbreak, material management, feed and drug costs are problems. Bạc Liêu has 130,000ha of aquaculture area, with 80% owned by households or farmers and most of which are traditional models with poor techniques and market information, leading to incommensurable profit against investment cost, labor, or even serious loss in the face of an unstable market.
VFM