Markets
Rush to export pangasius right at the beginning of 2022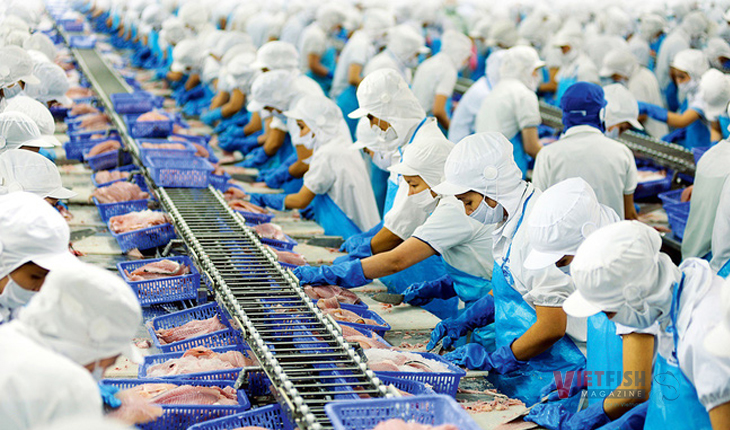 Deputy General Director of the Nam Viet Group (An Giang) Đỗ Lập Nghiệp said that nearly 5,000 workers of the Group are rushing to produce various kinds of pangasius products to fulfill the orders by worldwide partners right at the beginning of 2022.
The Nam Viet Group plans to export around 8,000 tons of pangasius of all types to about 100 countries and territories in January 2022, with a total of USD 20 million worth, up 60-70% compared to the same period.
Besides the increase in sales of pangasius, prices of this kind of fish rose by USD 2.6-2.7/kg on average (USD 2.3-2.4/kg higher than that in 2021).
In Nghiệp's opinion, the world is in increasingly high demand for pangasius products after a long delay of exportation due to the Covid-19 pandemic and difficulties in transportation.
"We are in favorable conditions with the 1,000ha material farming area and vaccinated workers coming back to work; thus, we are boosting the processing and exportation. However, the high freight charge and lack of containers have delayed the exportation. If the situation is tackled in the future, pangasius sales will be easier", said Nghiệp.
Favorable exportations have made material prices in the Mekong Delta rise by 24,000 dong/kg, which promises to bring profit to households suffering from little mortality rate of this fish. According to the Châu Thành Fisheries Cooperative (in Đồng Tháp), positive signs in pangasius exports right earlier this year may result in an increase in prices. If they range between 25,000 and 26,000 dong/kg or more, fish farmers in the Mekong Delta will feel comfortable to keep investing and producing.
According to VASEP, Vietnam's pangasius exports reached around USD 1.5 billion in 2021, slightly up from 2020, and is estimated to reach about USD 1.7 billion in 2022, up 13%.
VFM