Markets
Seafood exports face three major challenges in the second half of the year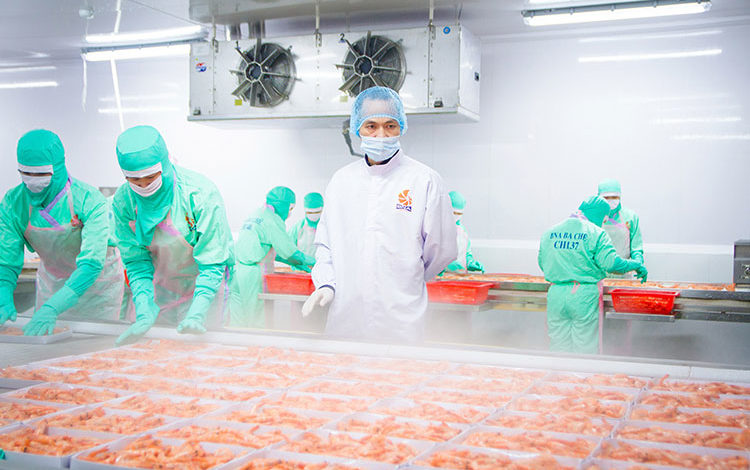 Scarcity of materials, increase in freight charges, and rise in production costs are the three major challenges faced by seafood exports in the second half of the year.
Chairman of Thuan Phuoc Seafood & Trading Corporation Trần Văn Lĩnh said that sales contracts of shrimp at this time had been signed before and during the Covid-19 pandemic; thus, prices could not compensate for the increased rate of production costs. The Corporation, therefore, has been negotiating to adjust prices upon orders so as to ease their burden.
The exporting prices of shrimp are forecasted to increase, especially at the end of quarter III. However, in Lĩnh's opinion, all shrimp farming areas will have been harvested by the end of the year; thus, local farmers and processing enterprises will not be able to seize this opportunity.
Amidst the scarcity of materials, markets will certainly pay attention to food safety and traceability such as the "IUU yellow card" that the EC has imposed on Vietnam's seafood products. Besides, the increase in freight charges and production costs will pose a threat against Vietnam's seafood exports.
With such a growth rate and the current situation of supply and demand, Vietnam's seafood exports are forecasted to reach USD 9.5-10 billion in 2022, with shrimp exports reaching about USD 4.1-4.2 billion, pangasius exports reaching USD 2.4-2.5 billion, and aquatic products reaching USD 3.2-3.3 billion.
In the face of opportunities, local seafood enterprises are boosting production to fulfill orders. VASEP's General Secretary Trương Đình Hòe shared that exporting companies must follow compulsory regulations of markets as well as satisfy additional demand by single markets of the bloc, and label exactly.
Besides, enterprises should seek opportunities to increase market shares of pangasius amidst the short supply of white meat fish in European countries, and study the advantages of the Free Trade Agreement between Vietnam and the EU. The exportation is promising in the future, thus, Vietnam must control the quality to retain credibility of Vietnamese seafood trademarks.
Seafood enterprises are facing difficulties when Hồ Chí Minh city starts to collect fees for using infrastructure at port border gates from vessels operating on local waterways and quarantine imported frozen seafood materials used for processing for export purposes. Besides, there are objective challenges that have not been settled.
Thus, enterprises should be given specific instructions by competent authorities and supporting organizations. Moreover, enterprises should follow up the information of economy, politics, and Covid-19 pandemic so as to give flexible, adaptive and prompt predictions and solutions.
VFM