Markets
Seafood exports in 2023 predicted to reach over USD 9 billion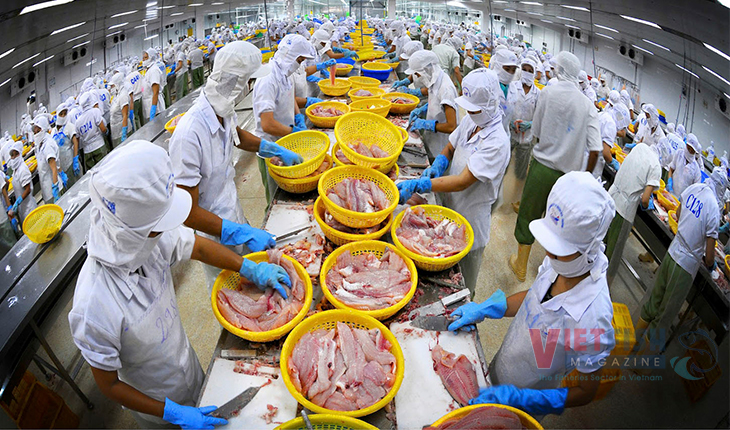 By mid-August, Vietnam earned USD 5.3 billion from exporting seafood, down 25% y-o-y, according to VASEP.
Vietnam's seafood exports are estimated to reach USD 846 million in August alone, down over 15% from the same period last year, but showing the lowest negative growth rate in the last six months and much higher than previous months.
Exports of pangasius brought in about USD 167 million in August, the lowest plunge in the last six months. Vietnam has achieved nearly USD 1.2 billion from shipping pangasius by mid-August, down 34% y-o-y. 
In August, shrimp exports are estimated to decline by 19% y-o-y, leaving the accumulated value of nearly USD 2.2 billion, down 28%.
Even though it was not a breakthrough, the turnover of shrimp in the last three months was much higher than earlier this year. Good signs were clearly recorded in the US market. Positive growth was also reported in Japan and Korea, but the industry didn't see a steady increase.
Vietnam saw a 15% increase in exports of other seafood products as compared to the same period last year, but the turnover was steady month on month. The biggest importers were Japan (accounting for 28.5%), the US (15%), Korea (11%), and EU (9%). Other wild-caught species sent to Vietnam to process for export purposes partly contributed to the turnover.
Besides, the Food Safety and Inspection Service (FSIS) has just completed its review on some pangasius processing and exporting companies. FSIS arrived at a conclusion that Vietnamese pangasius is qualified enough to enter into the US market. This will boost Vietnam's pangasius exports to the US in the next few months.
If the IUU inspection of EC in October goes well with positive results, exports of wild-caught seafood will grow.
VASEP expects Vietnam will see optimistic signs in seafood exports in the last months of the year and achieve USD 9 billion for the annual turnover.
VFM