Markets
Seafood exports slow down in May 2022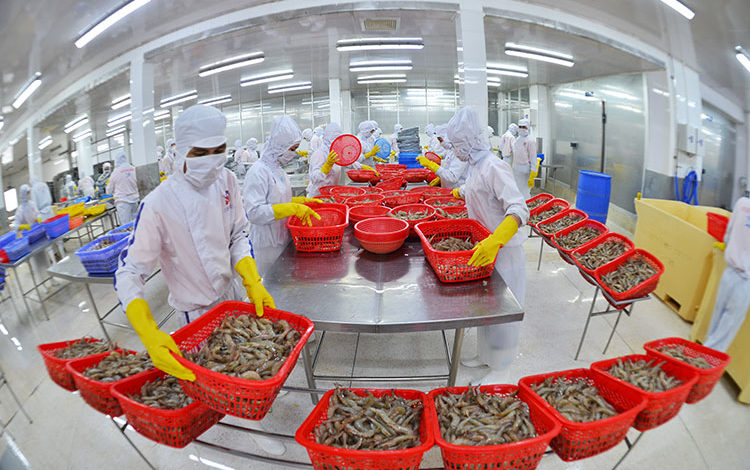 After hitting the record of USD 1.1 billion worth in April 2022 with a growth rate of 50%, seafood exports started to slow down in May.
According to VASEP, seafood exports did not keep the same growth rate as in April 2022, but still reached USD 1 billion, up 27% from the same period of 2021. The accumulated value of seafood exports by May reached over USD 4.6 billion, up 42% as compared to the same period last year.
The slight decrease in seafood exports in May was attributed to shrimp exportation which brought about USD 416 million this month, up 19% after skyrocketing by 47% in April. As of May, shrimp exports reached USD 1.8 billion, up 38% and accounting for 39% of the total seafood export value of the country.
A noticeable increase in sales of shrimp in the first four months of the year was due to stockpiles and inventory in 2021. Moreover, many enterprises signed contracts at the end of 2021 with high prices amidst the overwhelming Covid-19 pandemic and participated in international seafood exhibitions in the US and the EU. The global inflation also triggered the increase in shrimp prices. 
However, negative changes of the weather have affected shrimp farming since early May, resulting in a low output, hence shrimp materials are not as abundant as in April.
Thus, it is forecasted that shrimp materials may be in short supply in the next few months. Demand for shrimps in some major importing countries may slow down after a sharp increase since late 2021. Shrimp exports, therefore, are forecasted to grow slowly in quarter II as compared to the previous quarter.
Pangasius exports increased by 65% in May, valued at USD 245 million and showing a lower growth rate as compared to April. However, the accumulated value of the first five months rose by nearly 90% with USD 1.2 billion worth. The global inflation of food and seafood prices is hitting a new record this year, resulting in an advantage for Vietnam's pangasius exportation. Sales of pangasius are increasing sharply in markets, especially the US, the EU and China.
However, pangasius enterprises are concerned about exportation to China because of their strict regulations of detecting coronavirus on imported seafood products. Actually, some cargoes were returned and enterprises were temporarily prohibited from exporting to China; and Covid-19 detection was to blame. Some big cities such as Guangzhou and Shanghai are reopening but the "Zero covid" policy is posing a challenge to Vietnamese enterprises.
Tuna exports have kept a high growth rate with an increase by 41% in May 2022, reaching USD 93 million. As of May, tuna export value reached USD 461 million, up 58% from the same period of 2021. Exportation of other species such as cuttlefish, octopus, crab, sentinel crab, and mollusk increased as compared to the same period last year but the growth rate was lower than April.
According to VASEP, the on-going tension in Russia will continue to have bad impacts on the economies, including seafood exploitation which may result in short supply of materials when costs go up. Thus, material sources used for processing for export purposes continue to challenge enterprises.
VFM