Markets
Shrimp farmers are advised not to rush into harvesting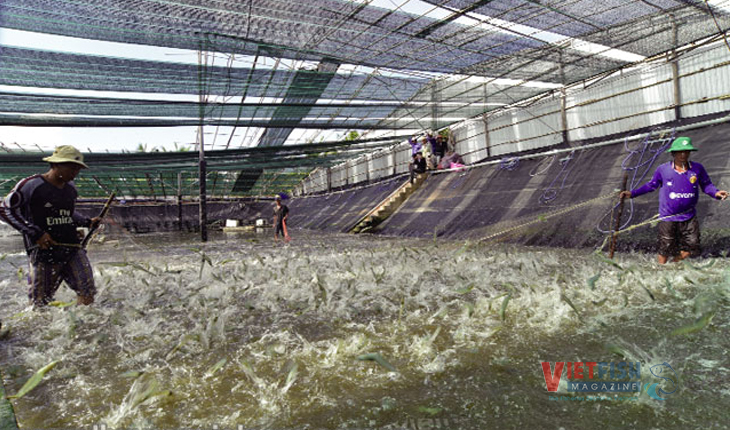 Vietnamese shrimp exporters think that the decrease in shrimp prices (depending on sizes and types) is a temporary downward trend during the covid-19 pandemic; farmers, hence, should not rush into harvesting.
Decrease in price depends on shrimp type
Some seafood exporting companies in Sóc Trăng, Bạc Liêu are purchasing black tiger shrimp and white leg shrimp. After social distancing, there are many agencies and factories in need of purchasing materials, so it is hard to push down the price.
Chairman of  Sao Ta Foods Joint Stock Company (Fimex-VN) Hồ Quốc Lực and other directors of seafood companies said that a decrease in price depends on each type of shrimp. Black tiger shrimps size 20 pcs/kg are sold at low price because they have been purchased by restaurants and hotels which are closed. But it does not fall so hard.
Meanwhile, the price of white leg shrimp was reduced in some areas after the rumor had it that it would continue to fall and farmers rushed into early harvest.
White leg shrimp size 70 pcs/kg is sold at 108,000 dong/kg, which is 20,000 dong/kg higher than the lowest price in 2019. Production cost of this species is 70,000 dong/kg.
Shrimp powerhouses are facing challenges due to the covid-19 pandemic. Prices are reduced temporarily and can not decrease any further.
Shrimp prices will see positive at the end of this year. What needs to be done is to adopt a better post larvae quality control system and prevent disease outbreak.
High stocking
In the 2020 brackish shrimp crop, Kiên Giang plans to stock on 130,700 ha, and bring in an output of 85,000 tons. 124,400 ha was filled in the early months, up 4% compared to the same period last year, with 1,329 ha of industrial cultivation of mainly white leg shrimp, 26,610 ha of extensive and improved extensive practice, and 96,500 ha of shrimp-rice farm.
It is the mid-harvest of farmed shrimp and estimated to produce nearly 6,000 tons in April, bringing the accumulated sum of 20,300 tons of commercial shrimp since early this year.
As many as 9.8 million post larvae have been produced and 8.7 million ones have been imported from other provinces after being quarantined since early this year, well satisfying local demand in stocking.
Deputy Director of Kiên Giang provincial department of Agriculture and Rural Development Quảng Trọng Thao said: "The province has done well with stocking brackish water shrimps in the first four months of 2020 with area and output being much higher than the same period last year. However, the weather in the peak time of dry season is severe with highly increasing salinity and off-season rains. Fluctuation of environmental factors and disease outbreak may pose highly possible damages in the next few months.
VFM