Markets
Shrimp price drop worries farmers in Mekong Delta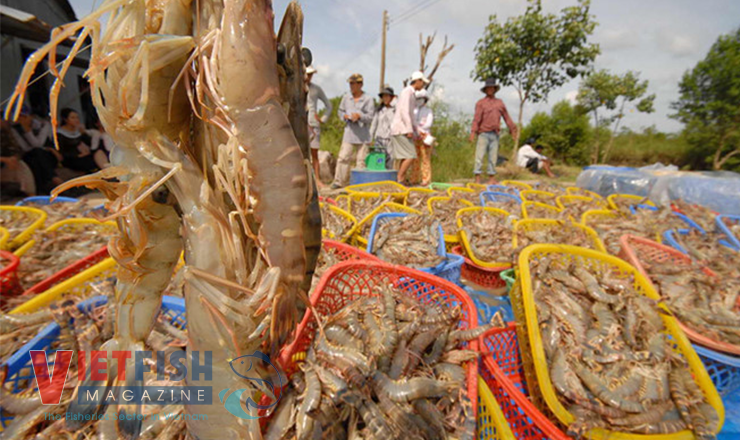 The price of white leg shrimps has dropped for over a week, worrying farmers in Mekong Delta especially when they are getting the harvest in.
Long An's farmers are worried about white leg shrimp price dropping day by day. "White leg shrimp price dropped over 15,000 dong/kg within two weeks. Many are facing difficulties, even loss regardless of bumper crop. Price of white leg shrimp sized 100 pcs/kg was 95,000-100,000 dong/kg ten days ago, but it drops to 80,000 dong/kg and may keepfalling.
Farmer Võ Văn Việt (in Tân Chánh commune, Cần Đước) said "Shrimp price drop worries farmers as they make no benefit due to high production cost. Farmers involved into earthen-pond farming may suffer huge loss. I have 2 ponds of white leg shrimps with one being harvested and sold at 75,000 dong/kg and one is waiting for harvest. Such low price just gives me hope of break-even".
Besides, many are facing the risk of disease as some early rainfall has come despite hot weather. Farmer Nguyễn Văn Đức (in Đức Tân commune, Tân Trụ district) said: "Bad weather has affected farmed shrimps, making disease more complicated. Thus, I haven't stocked again. My neighbors are suffering from disease striking their shrimps only 50 days after stocking. They had to harvest earlier than plan to prevent the transmission. Low price and such damage make farmers suffer from huge loss".
According to experts, white leg shrimps have developed so quickly in recent years and somehow price of material shrimps have been influenced. Head of Agriculture and Rural Development Office on Cần Đước district Nguyễn Hồng Chương gave his warning: "For sustainable development, farmers should rear both white leg shrimps and back tiger shrimps upon market demand. Besides, they should not dedicate their whole time into just white leg shrimp so that it can prevent such price drop. They need learn to apply the achievements of science technology to reduce production cost".
Phạm Phú Hùng, Vice Director of provincial Center of Agriculture Services said "For efficient farming, farmers need follow the crop schedule given by local or provincial authorities. Particularly, stocking starts on 14 January and ends on 30 September 2019, brackish water shrimp farming proceeds from 14 January to 30 November 2019.
Moreover, farmers must regularly follow results of water environment survey around the farming areas, and fully apply technique skills such as pond consolidation, adequate time for pathogen isolation (at least 30 days).Post-larvae must be selected and bought from credible facilities with suitable stocking density and full quarantine. Shrimp toilet must be in the middle of the pond to reduce environment pollution. Advanced technology should be applied in farming, in accordance withconditions of each area, for example two-stage farming, usage of probiotic for pond treatment, automatic feeding machine or aeration.
VFM