Markets
Targeting other markets to export shrimp at the end of the year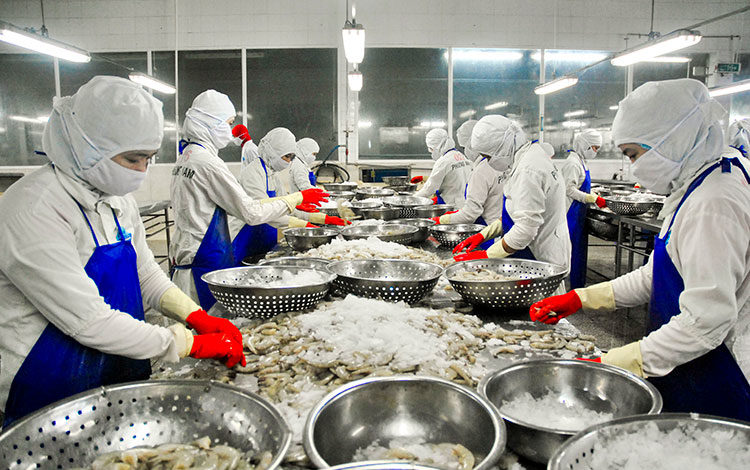 Coastal shrimp farming areas in the Mekong Delta are carrying out the last harvests with descending output. Meanwhile, seafood exporting businesses are managing to target other markets to minimize disadvantages.
There are two main shrimp crops of the year in the Mekong Delta. Farmers related to brackish water shrimp culture are harvesting the second crop. According to shrimp farmers in Cà Mau, they have faced lots of difficulties in this crop and suffered from a worse impact of the weather than the first crop.
Disadvantageous updates in the on-going tension between Russia and Ukraine in the second half of the year have dragged many countries into inflation. Major markets have been affected with purchases drastically reducing. On the other hand, poor sales of products imported in the first six months of the year led to inventories. The two powerhouses of shrimp, Ecuador and India, still saw high output. Shrimp farmers in the Mekong Delta have faced diseases and saw a drop in output as compared to 2021.
These factors can lead to an anticipation of more than USD 4 billion worth from shrimp exports in 2022.
Sales of shrimp will not be as expected till the end of the year due to global inflation. The shrimp exporting market is badly impacted by the huge supply from India and Ecuador. The exporting prices of Vietnamese shrimp increased as compared to the same period last year; however it was just virtual as the price was mainly added by the higher freight charge. Thus, businesses saw just modest efficiency, except for those who invested into shrimp farming areas with lower production costs.
Hồ Quốc Lực, Chairman of the Board of Directors of Fimex VN realizes that the shrimp exporting market is facing challenges. The British Pound Sterling and the Euro have fallen almost 12% and the Japanese yen has weakened and fallen about 14-16%. Thus, Vietnamese shrimp have lost their competitiveness when entering these markets. Even though Vietnamese shrimp have some advantages in the US market, they are facing a fierce competition against shrimps exported by India and Ecuador.
The inflation of some countries is leading to an increase in prices of material, and yet the selling price stays the same. Those facts pose risks on processing businesses. Thus, some shrimp exporters are looking for advantages by targeting closer markets so as to reduce the shipping charge.
VFM